First Annual Winter Wonderland Gala
The TJ Ford Basketball Academy and Project Beautiful Me kick off holiday fundraising to benefit families affected by recent storms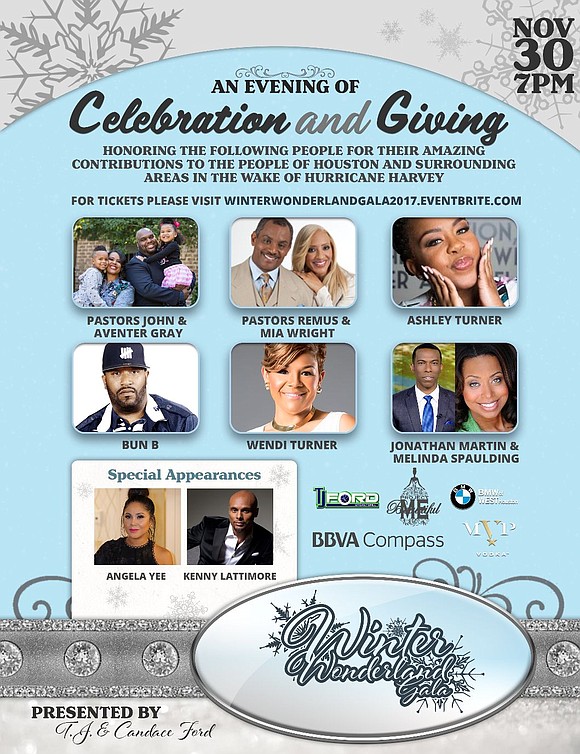 November 14, 2017 - Houston, TX - The holiday season is that special time of the year we all look forward to, but for families still trying to rebuild since Hurricane Harvey, it is not such a joyous occasion. For this reason, TJ and Candace Ford are combining forces and using their non-profit organizations to help provide a Christmas for families affected by the storm at the 1st Annual Winter Wonderland Gala.
The Winter Wonderland Gala will take place on Thursday, November 30th at The Fountain Life Center, and will be hosted by Jonathan Martin, News Anchor at Fox 26, and Melinda Spaulding, the Vice President for University Advancement for TSU.
The TJ Ford Basketball Academy and Project Beautiful Me provide a national platform for youth to grow through community outreach, mentorship, and higher education opportunities.
This special event is highlighted by honorees Pastor John & Aventer Gray, Pastors Remus & Mia Wright, Bun B, Ashley Turner, Wendi J. Turner and Duer Sharp for their outstanding commitment to helping those affected by Hurricane Harvey. There will be a special performance by Kenny Lattimore and a special appearance by Angela Yee. Proceeds from this black-tie event will help provide basic necessities and resources that many still do not have access to since families were forced to evacuate their homes.
The road to recovery for some is very long, however with big hearts and hands this will be more than an event, but a community effort that uplifts each other during the holidays.
To purchase tickets and for more information on how to donate, please visit, www.projectbeautifulme.com/