Two Former NFL Players Team Up To Give Back
An Evening of Fun and Feasting at the Ronald McDonald House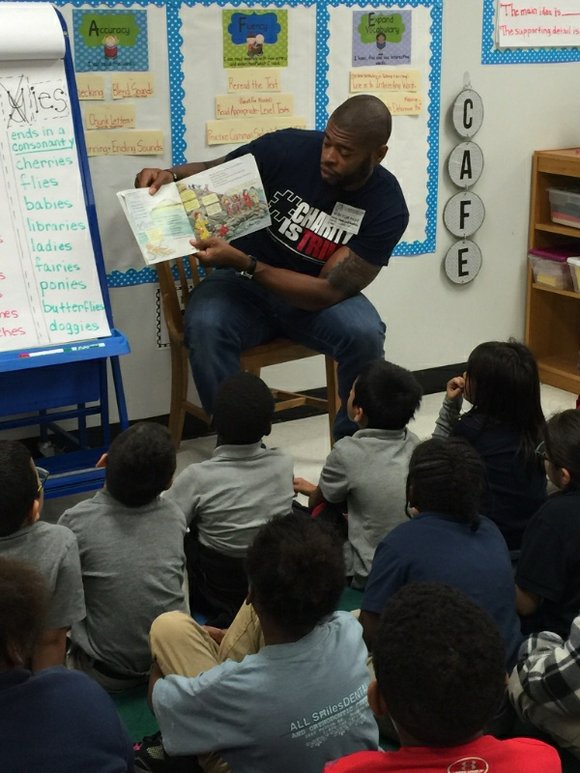 HOUSTON, TX - Knowing that the best way to give thanks is to give back, adorned with grateful hearts, two former NFL players are making a positive impact on their community, whereas they have teamed up to feed the families of pediatric critically ill patients at Ronald McDonald House Houston. Herb Taylor, owner of Ray's BBQ Shack and Wade Smith, founder of The Wade Smith Foundation, pillars within the Greater Houston communities, will be serving meals donated by Taylor's own, Ray's BBQ Shack as well as reading Smith's latest children's book "Smitty Tackles Bullying," to the families and their children. This act of compassion will take place on Wednesday, November 22, 2017 at 6:00 p.m. to 8:00 p.m. at Ronald McDonald House Houston located at 1907 Holcombe Blvd, Houston, TX 77030.
"As we navigate the holiday season, we can easily become overwhelmed with all the tasks and activities we have going on or things that we have to do, that we forget to stop and reflect on why we should be celebrating. It's those selfless moments that makes us reflect on how blessed we are while uplifting and extending gratitude to our fellow man," said Taylor.
This event is poised to be a festive celebration filled with fun and feasting! The families will enjoy the succulent smoked flavors of Ray's BBQ Shack mouth-watering brisket, turkey, sausage, potato salad, baked beans and peach cobbler. Definitely a non-traditional twist to a Thanksgiving dinner, however they will experience family tradition laced in love in every bite!
According to the Ronald McDonald House Houston, "it offers a home away from home providing care, compassion and hope to families with seriously ill children being treated in Texas Medical Center member institutions. When a child becomes critically ill, the nearest treatment might be far from home in an unfamiliar community and medical center. Whether the child is facing cancer treatment, an organ transplant or recovering from a major surgery, this treatment might require long periods of hospitalization and extended periods of hospital-based therapy. Ronald McDonald House Houston offers an affordable and comfortable place to stay where families have the chance to take their mind off their stress so they can be most helpful and supportive to their child and the other siblings. A nap, snack, hot meal, shower or even a chance to talk with another mom and dad is restorative and nurturing during an anxious time."
For more information about Ray's BBQ Shack, please follow the flavor on Facebook and Instagram @RaysBBQShack and @RaysBBQ1 on Twitter. For a full menu of Ray's BBQ Shack signature dishes, please visit www.raysbbqshack.com. For more information about The Wade Smith Foundation, please visit www.wadesmithfoundation.org and their social media platforms @WadeSmithFoundation on Facebook and @WadeSmithFound on Instagram and Twitter.