5 things for October 3: Las Vegas, Puerto Rico, Facebook, Wells Fargo, Tom Petty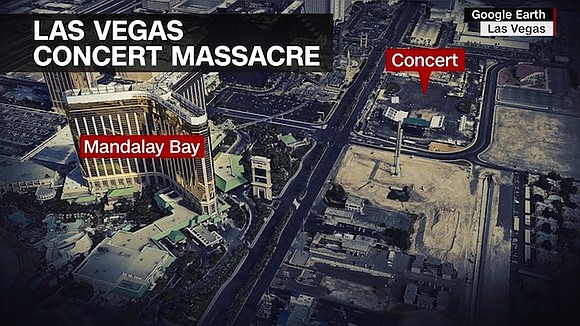 By Doug Criss, CNN
(CNN) -- The worst events often bring out the best in people, like those who stood in line for hours in Las Vegas to give blood. Here's what else you need to know to Get Up to Speed and Out the Door.
1. Las Vegas shooting
We now know who's responsible for the massacre in Las Vegas and how it happened. But we may never get an answer to the most pressing question: why. Why would a 64-year-old retired accountant, with no history of violence, hole up in a casino hotel room and fire off round after round on innocent concertgoers? The carnage is almost unspeakable -- at least 59 dead and more than 500 injured. It's the deadliest mass shooting in modern American history.
The shooter, Stephen Paddock, had amassed an arsenal of 42 firearms. Twenty-three weapons, including a handgun and multiple rifles, were found in his room at the Mandalay Bay Resort and Casino. Another 19 firearms were found in his home in nearby Mesquite, Nevada. Material used to make explosives were found in his car. Authorities still think he acted alone. His brother told reporters this was totally out of character for Paddock.
And now, we're learning about the victims: people like Sonny Melton, 29, a registered nurse from Tennessee, whose wife said he saved her life before he was shot, and Rachael Parker, 33, a records tech for a police department in California. Read more here about those lost too soon. Late-night host Jimmy Kimmel got emotional talking the tragedy in his hometown and what can be done about gun violence, and Hillary Clinton tweeted, "Our grief isn't enough."
2. Puerto Rico
For the second day in a row, President Trump will be called upon to be the nation's comforter-in-chief. After striking a unifying tone during his address on the Las Vegas shooting, Trump heads today to Puerto Rico to witness storm damage from Hurricane Maria. It will be a heavy lift after Trump went after Puerto Rican officials who criticized the federal storm response. Everyone will be watching to see how the President is received on the US island. Oxfam, a global group that works to end poverty, called the administration's response "slow and inadequate." Even "The Simpsons" appealed for more aid.
3. Facebook and Russia
Looks like the Russians got a lot of bang for their buck when they bought political ads on Facebook to meddle in America's elections. Facebook says about 10 million people saw at least one of the 3,000 ads bought by accounts linked to the Russian government. And it cost just $100,000 over two years to get that kind of reach. Facebook's disclosure came just hours after it gave Congress detailed records of the ads, Another fun fact: More than half of the ads ran after the 2016 election, and some may still be running today.
4. Wells Fargo
Wells Fargo's CEO will be in the hot seat when he appears before Congress today, a little more than a year after the fake account scandal rocked the mega-bank. Tim Sloan plans to place the blame on management, according to his prepared testimony, and his predecessor, former CEO John Stumpf, for acting too slowly to head off the scandal. Wells Fargo is trying to change its broken sales culture, which gave rise to the bank opening up 3.5 million fake accounts. Sloan will almost certainly face a hostile audience on Capitol Hill. Last week, Democrat Maxine Waters said the bank should be shut down for its sins.