Las Vegas Investigation Finds More Weapons, But Shooter's Motive Unknown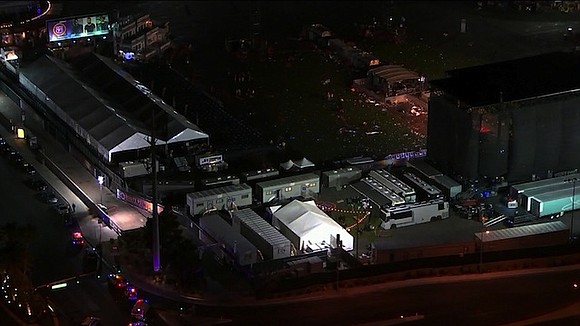 By Madison Park, Darran Simon and Philip Victor, CNN
(CNN) -- A day after the deadliest mass shooting in modern US history, authorities are learning more about the shooter who fired into a crowd of thousands during a country music festival from a Las Vegas hotel suite.
At least 59 people were killed and 527 others injured in the shooting that started late Sunday night. Police believe the shooter, Stephen Paddock, killed himself before they entered his suite.
In his 32nd-floor hotel suite at the Mandalay Bay Resort and Casino, police recovered 23 weapons, including a handgun, and multiple rifles -- some had scopes on them. Authorities also found several pounds of ammonium nitrate, a material used to make explosives, in his car.
Police also searched the gunman's home in Mesquite, Nevada, where they found at least 19 firearms, explosives, several thousand rounds of ammunition and some electronic devices.
As police uncovered more evidence, they're still piecing together a motive.
There was no explanation on why Paddock, a 64-year-old retired accountant who had never faced any notable criminal charges, unleashed a hailstorm of bullets into concertgoers.
So far, police believe Paddock acted alone.
"We believe Paddock is solely responsible for this heinous act," Clark County Assistant Sheriff Todd Fasulo said in a press conference late Monday.
Latest developments
-- Paddock was alive when he made first contact with officers. A team of six officers spoke with security at the Mandalay Bay Resort and Casino, where Paddock was staying, and searched the hotel floor-by-floor Sunday night before they found Paddock's suite, Clark County Sheriff Joseph Lombardo told reporters. Paddock had a large suite with two rooms, he said.
-- Paddock fired at the officers through the door and shot a security guard, Lombardo said. The guard was shot in the leg.
-- A SWAT team broke down the door, but Paddock had already killed himself, he said.
-- Authorities were searching a house in Reno Monday. A law enforcement official confirmed that the FBI is present in the city as part of the investigation. Paddock had a house in Reno, his brother said.
-- Several vigils were held Monday night to honor the victims of the shooting. Community members gathered in Reno, Las Vegas, the Nellis Air Force Base and at the campus of University of Nevada, Las Vegas.
-- Carrie Barnette, a Disney employee, is the latest victim to be identified. "A senseless, horrific, act, and a terrible loss for so many. We mourn a wonderful member of the Disney family: Carrie Barnette," tweeted Disney Chairman and CEO Robert Iger.
-- Paddock bought multiple firearms in the past, but investigators believe the firearms were purchased legally, a law enforcement official said. The official said initial reports suggest at least one rifle was altered to function as an automatic weapon.
-- A North Las Vegas gun store sold a shotgun and a rifle to Paddock in the spring. All state and federal requirements, including a FBI background check, were met, said David Famiglietti, president of New Frontier Armory. He said that neither of the weapons "leaving our store [are] capable of what we've seen and heard in the video without modification."