Musical Tribute to Homer's 'Odyssey' Arrives in Houston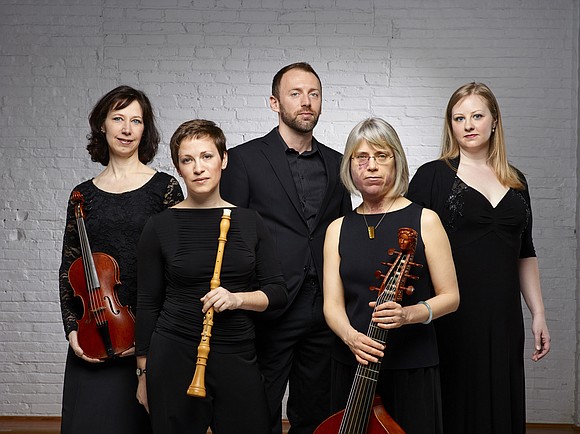 HOUSTON – Oct. 3, 2017 – Homeric legend comes alive through the medium of French Baroque music in a program presented by Cleveland-based ensemble Les Délices for the Houston Early Music series on Friday, Nov. 3, at 7:30 p.m. at Salem Evangelical Lutheran Church.
"We are delighted to introduce Les Délices to Houston audiences," said Deborah Dunham, executive director of Houston Early Music. "This exceptionally talented ensemble brings a rare mix of drama, emotion and history to our season."
Titled "Myths & Allegories," the program explores the power of love, hope and fidelity with music that evokes passages from Homer's epic poem "The Odyssey," a favorite subject of French Baroque composers. Musical works trace the journey of Greek hero Ulysses from the Trojan battlefield to his home in Ithaca and celebrate his reunion there with his long-patient wife, Penelope.
"This is a program we've done a lot," said Les Délices director Debra Nagy, who added that "it's always nice to revisit it." A Baroque oboe and recorder player, she put the program together in 2011 when she was researching music for the group's soprano, Clara Rottsolk. They recorded it to CD in 2012, but it has evolved a bit since then. Rottsolk is no stranger to Houston, having done her undergraduate work at Rice University's Shepherd School of Music.
Something new the ensemble has added recently is a trio sonata by François Couperin for oboe, violin and continuo. Titled "L'Astrée," the atmospheric piece opens the program and "sets the stage beautifully for the dramatic exploration of Ulysses" said Nagy.
What follows is as much a journey of emotions as it is of geographical movement. Excerpts from Act I of Jean-Féry Rebel's opera "Ulysse" include two soprano arias in which Penelope laments her missing husband. These will be matched at the end of the concert by a pair of similar soprano arias from Act V of the same opera, in which Penelope expresses her complete joy in finally being reunited with Ulysses.
Between these two bookends unfolds an epic adventure in music, as the legendary hero encounters a host of adversaries, including the well-known Sirens, represented by a cantata by Thomas-Louis Bourgeois. There also is a cantata by Elisabeth Jacquet de la Guerre titled "Le Sommeil d'Ulisse" ("The Sleep of Ulysses") about his time under the spell of Calypso. Nagy calls it "beautiful, mesmerizing, other-worldly music."
Les Délices also includes violinist Julie Andrijeski, viola da gamba player Emily Walhout and harpsichordist Mark Edwards.
"Myths & Allegories" will be presented Friday, Nov. 3, at 7:30 p.m. at Salem Evangelical Lutheran Church, 4930 West Bellfort Blvd., Houston, Texas 77035. A pre-concert talk will begin at 6:45 p.m.
Individual tickets are available for $40 general admission, $35 senior admission and $10 for students with a valid student ID card. Children under the age of 15 receive free admission. Tickets may be purchased through the website at HoustonEarlyMusic.org or at the door on the day of the concert.