San Juan Mayor: I Hope Trump Stops 'spouting out' comments that hurt Puerto Rico's People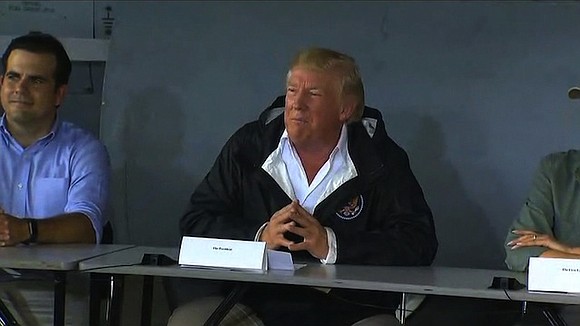 By Daniella Diaz and Eli Watkins, CNN
(CNN) -- President Donald Trump should avoid making comments that hurt the people of Puerto Rico, San Juan Mayor Carmen Yulín Cruz told CNN following a briefing with Trump on the island.
"I think his staff understands now and they have all the data they need," Yulín Cruz said. "But I would hope that the President of the United States stops spouting out comments that really hurt the people of Puerto Rico because rather than commander in chief he sort of becomes miscommunicator in chief."
Yulín Cruz said in an interview with CNN's Leyla Santiago that a briefing with Trump on Tuesday preceded a "productive" discussion with administration staff, but she lamented the tone of the President's remarks in the wake of back-to-back hurricanes
Trump has accused Yulín Cruz of taking a political angle to criticize his administration's relief efforts, and Yulín Cruz said she was able to speak with the President briefly when he shook her hand at Tuesday's event.
"I told him, 'Mr. President this is about saving lives. It's not about politics,'" Yulín Cruz said. "That's all the interaction that mayors had with him."
At the event, Trump praised Puerto Rico Gov. Ricardo Rosselló, saying the governor wasn't "playing politics" -- an apparent swipe at the San Juan mayor.
"I just want to tell you that right from the beginning this governor was not playing politics," Trump said as he huddled with local and federal officials on the island for a briefing on recovery efforts. "He was giving us the highest grades."
Trump attacked Yulín Cruz on Saturday for criticizing the White House's hurricane relief efforts in Puerto Rico, accusing her of "poor leadership" and suggesting that the island's residents are not doing enough to help themselves.
"The mayor of San Juan, who was very complimentary only a few days ago, has now been told by the Democrats that you must be nasty to Trump," the President tweeted from his golf club in Bedminster, New Jersey, where he spent the weekend. "Such poor leadership ability by the mayor of San Juan, and others in Puerto Rico, who are not able to get their workers to help. They want everything to be done for them when it should be a community effort.
Earlier Tuesday morning, Trump appeared to soften his criticism, saying Yulín Cruz "acknowledged" the work the White House has done on the island.
"Well I think she's come back a long way," he said. "I think it's now acknowledged what a great job we've done. And people are looking at that. In Texas and in Florida, we get an A-plus. I think we've done just as good in Puerto Rico and it's actually a much tougher situation ... Whether it's her or anybody else, they're all starting to say it."
In the interview following the event, Yulín Cruz said she would have preferred Trump listen to herself and the other mayors about the situation on the ground, but she said the second portion of the event -- the part without Trump -- was productive.