5 Things for October 4: Las Vegas, Puerto Rico, Facebook & Russia, Spain, Uber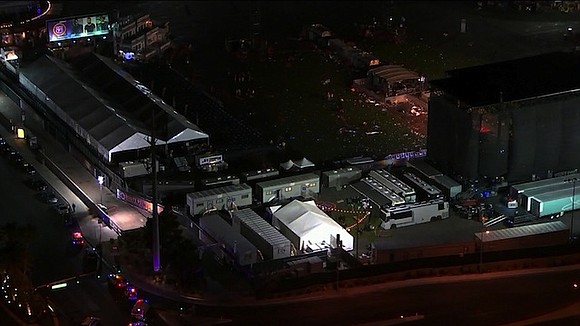 By Doug Criss, CNN
(CNN) -- Survivors of the Las Vegas shooting will need long-term support. Here's how you can help. And here's what else you need to know to Get Up to Speed and Out the Door.
1. Las Vegas
The one person who may have a clue as to why Stephen Paddock decided to kill 58 people at a country music festival will soon be talking with investigators. Marilou Danley, Paddock's girlfriend, just flew in from the Philippines and landed in Los Angeles. She was accompanied by FBI agents and will be questioned by Las Vegas police.
We've also gotten more details about the shooting itself through police body-cam footage, which captures the rapid staccato of the gunfire. The gunman continuously fired for about 10 minutes. Photos from Paddock's hotel suite at Mandalay Bay were also published, showing guns, ammunition and what appears to be a body on the floor.
The stories of how people pulled together to help each other during Sunday night's chaos are starting to emerge. Like the shooting survivor who held a stranger's hand for hours after he died at her side. Or the Iraq war vet who took a stranger's truck to get the wounded to a hospital. We've profiled some of those lost to the shooting. President Trump visits Las Vegas later today.
2. Puerto Rico
President Trump's trip to Puerto Rico was his second chance, after his well-received address on the Las Vegas shooting, to fill the role of consoler-in-chief. It didn't go so well. During a briefing with local officials on recovery efforts, Trump seemed to downplay the devastation Hurricane Maria brought to the US territory and pumped up praise for his administration. He compared Puerto Rico's death toll to "a real catastrophe, like Katrina." No, really. Later, he met with storm survivors and helped distribute supplies, at one point lobbing paper towel rolls like jump shots. CNN's Chris Cillizza says the President just doesn't have the empathy gene. Before leaving the island, Trump, in an interview with Fox News, floated the idea of wiping out Puerto Rico's massive debt.
3. Facebook and Russia
A number of Russian-linked Facebook ads specifically targeted Michigan and Wisconsin, two states crucial to Donald Trump's victory last November, according to four sources with direct knowledge of the situation. Some of the Russian ads appeared highly sophisticated in their targeting of key demographic groups in areas of the states that turned out to be pivotal, two of the sources said. The ads employed a series of divisive messages aimed at breaking through the clutter of campaign ads online, including promoting anti-Muslim messages, sources said.
4. Spain
The King of Spain is straight-up ticked off at leaders in Catalonia over the region's independence referendum. In a rare TV address, King Felipe said the referendum's organizers "and their irresponsible attitude" had jeopardized Spain's stability. He did not, however, mention the violence that occurred when Spanish police tried to forcibly remove people from the polls. Those clashes left nearly 900 people injured. The King's tough talk must be falling on deaf ears though, because Catalonia's leader told the BBC that the region could declare independence as early as the end of this week.