Puerto Ricans Fire Back at Trump for Critical Tweets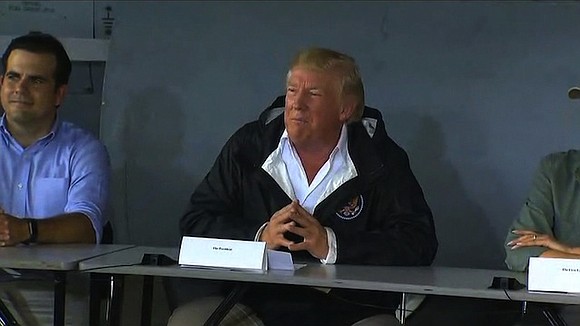 By Ralph Ellis, CNN
(CNN) -- Puerto Ricans reacted harshly on Saturday to President Trump's tweets that leaders of the hurricane-ravaged Caribbean island "want everything to be done for them when it should be a community effort."
Several Puerto Ricans contacted by CNN stood up for San Juan Mayor Carmen Yulín Cruz, who apparently provoked the Trump tweet with a call for more aid, and many said the Puerto Rican community at home and abroad is already working together.
"I'm amazed that he has the gall to say Puerto Ricans expect everything to be done for them," said Griselmarie Alemar of Stratford, Connecticut. "They are working exhaustively to lift themselves up. We are citizens. We pay taxes. We serve in the military."
"It is a community effort," Evelyn Torres said at a fund-raising event in the Bronx. "It is a humanity effort."
Across all of the mainland US, various food and donation drives have been held throughout the past couple of weeks, hoping to get aid to those who need it.
"The Puerto Rican community," says Abner Breban of Atlanta, "has come together like never in the city of Atlanta." Breban has started a Facebook group called "Atlanta Levanta a Puerto Rico," which aims to help organizations in their efforts to collect, organize and distribute donations for the island.
Breban adds the movement is grassroots with everyone in the community finding roles and doing whatever is needed.
Speaking from San Juan, Renee Acosta said, "If he's not here, he shouldn't be criticizing the community efforts."
"Hamilton" creator Lin-Manuel Miranda, whose parents moved to New York from Puerto Rico, took his shot on Twitter, saying: "You're going straight to hell, @realDonaldTrump. No long lines for you. Someone will say, 'Right this way, sir.' They'll clear a path."
The President stirred things up with a series of tweets Saturday from his golf club in Bedminster, New Jersey, where he is spending the weekend.
He seemed to be responding to Cruz's comments on Friday night on CNN, when she said,"We're dying here. We truly are dying here. I keep saying it: SOS. If anyone can hear us; Mr. Trump can hear us, let's just get it over with and get the ball rolling."
Trump tweeted on Saturday morning, "The Mayor of San Juan, who was very complimentary only a few days ago, has now been told by the Democrats that you must be nasty to Trump. Such poor leadership ability by the Mayor of San Juan, and others in Puerto Rico, who are not able to get their workers to help. They want everything to be done for them when it should be a community effort."
And late in afternoon, he fired again at Cruz: "Results of recovery efforts will speak much louder than complaints by San Juan Mayor. Doing everything we can to help great people of PR!"
Speaking to CNN's Anderson Cooper on Saturday night, Cruz said she's not a Democrat.
"He is looking for excuses for things not going well," she said. "I have no time for small politics or for comments that do not add to the situation here."