Trump in Puerto Rico: A Narcissist's Tour de Force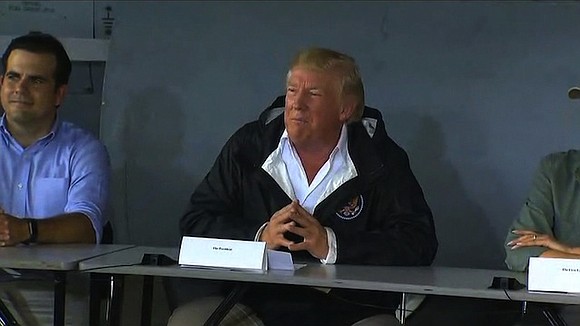 By Michael D'Antonio
(CNN) -- Finally lumbering into a devastated Puerto Rico aboard Air Force One, almost two weeks after Hurricane Maria made landfall, President Trump came face-to-face with the kind of reality he can't deflect with anger and derision. A world waited to see if in a crisis, an unscripted Trump would rise to the occasion. He did not.
Upon arriving, Trump sat with a group of government officials and began praising his own administration. Like Snow White's evil stepmother who demanded the mirror remind her that she is "the fairest of them all," he then asked Rep. Jenniffer González-Colón to join in the fawning and flattering.
"I watched the other day," said the TV-addicted President, "and she was saying such nice things about all of the people who have worked so hard. Jenniffer, do you think you can say a little bit of what you said about us today?" He quickly added, "It's not about me," but of course it was.
As everyone knows, the only way to deal with the President is with praise, indulgence and political pats on the head. Thus it was that González-Colón and all those who spoke to the President gave him the verbal thumbs-up even as the 3.5 million people of Puerto Rico entered their third week of suffering as many still lacked electricity, secure supplies of food and reliable clean water.
Indeed, the only real complaint came from Trump himself, who said, "I hate to tell you Puerto Rico, but you've thrown our budget a little out of whack."
A narcissist's tour de force, Trump's arrival meeting was likely the first time any president visited a part of the country ravaged by natural disaster and complained about the cost of the emergency response. Something inside him realized he had gone too far. "That's fine," he quickly added, "We've saved a lot of lives."
Lifesaving is what the federal government is supposed to do when disaster strikes, and when hurricanes recently ravaged Texas and Florida he wasted no time getting to the scene and never complained about the cost.
In the case of Puerto Rico, he wasted time on bashing football players protesting racial inequities and took his eye off the island as he enjoyed a long weekend at a golf resort. As the Washington Post reported, for four days "Trump and his top aides effectively went dark themselves."
Trump was so slow to react to the tragedy in Puerto Rico that the mayor of San Juan cried out in frustration. Naturally, the President took personal offense. "The Mayor of San Juan, who was very complimentary only a few days ago, has now been told by the Democrats that you must be nasty to Trump," the President said in a tweet from his golf club in Bedminster, New Jersey.
He also said, "Such poor leadership ability by the Mayor of San Juan, and others in Puerto Rico, who are not able to get their workers to help. They want everything to be done for them when it should be a community effort."