Food Network Star and Local Celebrities Join 'Zest in the West' for An Exciting Culinary Feast
West Houston Restaurants Making a Comeback After Hurricane Harvey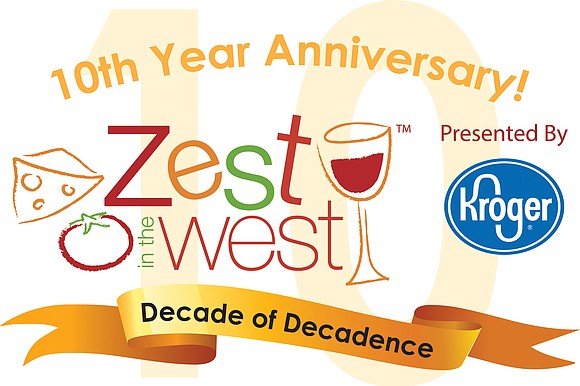 HOUSTON, TX – October 5, 2017, – The Houston West Chamber of Commerce and Food & Vine Time Productions welcome an impressive line-up of celebrity judges for Decade of Decadence at the 10th annual Zest in the West food and wine event, taking place Wednesday, October 18, 2017, from 7 – 10 p.m. at Château Crystale. The is the 10th year the event is being presented by Kroger.
Zest in the West is also an opportunity to support the restaurants on the west side that were affected by Hurricane Harvey either by suffering damage or not being able to receive business because of flooding.
West Houston's finest restaurants will compete for the coveted title of Best of Zest, and several familiar faces are on tap to judge the competition. Chef Michael Gabriel is best known for his appearances on Food Network's Cutthroat Kitchen, season 12, and as champion of Camp Cutthroat Kitchen 2. He has also appeared on Fox's hit TV show Hell's Kitchen. Phaedra Cook is the editor and publisher of Houston Food Finder, the first online-only publication covering the city's restaurant and bar scene. Kris Jakob is the owner and executive chef of Brasserie 1895, which was named to Houston Chronicle's Top 100 restaurants. Renia Butler is president and founder of the Houston Food Blogger Collective, a group of nearly 100 food and wine bloggers. Sherri Segari is the culinary director for Wine & Food Week and The Houston Chronicle Culinary Stars with Food & Vine Time Productions. She is also the owner of LuLu & Ruby Concepts, a marketing, PR and event consultancy. Cleverley Stone, host of the Cleverley Food Talk Radio Show on CBS 650; food segments on Fox 26 and Founder Houston Restaurant Weeks.
Zest in the West is a party for the taste buds with delectable gourmet chef-inspired offerings, 150 wine selections, a fashion forward award, sleek Ferrari race cars and engaging partner displays. The event also features a Big Board auction, wine pull and silent auction benefiting scholarships for the West Houston Leadership Institute. Celebrities and technically-trained chefs take their taste bud talents to the test deciding on the winner of the coveted Best of Zest Culinary Award. Last year's award winners included Latin Bites Contemporary Cuisine, Cacao & Cardamom and Mark Cox Catering.
A sampling of this year's Zest in the West participating restaurants are: A Chef for All Occasions, Bua's Bistro Italian and New World Cuisine, Cacao Cardamom, Cantina Laredo, Carmelo's Ristorante Italiano, Capital Grille, Churrascos, Fogo de Chao Brazilian Steakhouse, Havana Houston, Kroger, Le Mistral, Nirvana, Ragin Cajun, Latin Bites Cafe, Snappy Salads, Rudy Lechner's, Seasons 52 and Bundt-Cake-A-Holic, Fajita Pete's, Mama Fu's, and Ursula's Jerk Chicken.
Sponsors include: Kroger (presenting sponsor for 10 years), ABIP CPAs, Spring Branch Management District, BoyarMiller Attorneys at Law, Ferrari of Houston, Eat Prime Foods, Premier America Credit Union, Abbey Residential, Pearl Wood Lake Luxury Apartments, Aruba Tourism, Claudia G Collection, Westchase District, Manning Pool Service, Douglas Business Solutions, Republic National Distributing Company and Renewal by Andersen.
In-kind sponsors include: ACME Party & Tent, Château Crystale Event Center, Cimo Productions, Genesis Photographers, Infiniti Graphics, Chad Gaulding Kwik Kopy, Neil Productions, Next Level Urgent Care, PJS Services, RNDC, Sarah's Florist, SpeedPro Imaging The Woodlands, StoryTeller Promotions, and Zippy Shell.
Tickets to attend Zest in the West are now available and range from $65 to $200. Volunteer opportunities are also available. Call (713) 557-5732 for more information or visit www.zestinthewest.com.
Event Line-up – Wednesday, October 18, 2017
Bubbles & Brews Pre-Party presented by Premier America Credit Union – 6 – 10 p.m.
Guests enjoy fine champagnes and sparkling wines, rare craft beer selections and savory eats from 6 – 7 p.m. After the reception, guests will enter the Grand Zesting, starting at 7 p.m. Bubbles & Brews plus Grand Zesting $95
Grand "Zesting" – Château Crystale Ballroom – 7 – 10 p.m.
A "Zesty" experience for foodies, craft beer buffs and wine enthusiasts alike. Enjoy culinary offerings from West Houston's finest restaurants as they compete for the Best of Zest Culinary Awards. The Grand Zesting features a charity auction with proceeds benefitting the West Houston Leadership Institute. Funds raised provide scholarships for participants of this 10-month program, which trains and develops leaders in the West Houston community.
Grand Zesting General Admission $65
Ferrari VIP Luxury Lounge – 7 – 10 p.m.
Luxury awaits you as you enter the VIP Luxury Lounge. Enjoy luxurious seating and premium wine selections. Gaming tables keep you entertained between noshing on chef's culinary creations and sipping fine wines in the posh surroundings. VIP Luxury Lounge guests enjoy all the elements of Zest in the West. VIP Luxury Lounge $125
Total VVIP Experience presented by BoyarMiller & Grand Zesting Experience – 6 – 10 p.m.
If you want to live life to the fullest - then you want it all!!! And you can get it all with The Total VVIP Experience package which includes the finest wines at Zest in the West. With special experiences and all access to Bubbles & Brews pre-event reception, Zest in the West general area and VIP Luxury Lounge. VVIP receive the "big" glass!
Take a seat for a guided tasting through a flight of award winning Italian wines from Stefano Farina Wines and meet the owner, Federico Farina. The BoyarMiller Total VVIP Experience $200
The Houston West Chamber of Commerce is located in the population center of Houston that is home to the Galleria Area, Uptown District, Westchase District, Spring Branch District, Memorial City, International District, CityCentre and the Energy Corridor District – an area of more than 8,000 businesses that employ more than 100,000 people in industries responsible for West Houston's exponential growth such as oil and gas, manufacturing, technology, retail, medical, engineering and service firms. www.hwcoc.org
Food & Vine Time Productions is the region's premier lifestyle culinary, wine and craft beer event production company producing Wine & Food Week, Katy Sip n Stroll, Brewmasters Craft Beer Festival, Freight Train Food Truck Festival, Celebration Seabrook, Culinary Stars, Wine Fair Cy-Fair, plus a variety of private functions. www.foodandvinetime.com