Local Lingerie Boutique Wins Industry Award and Immediately Switches Gears to Help Women Affected by Harvey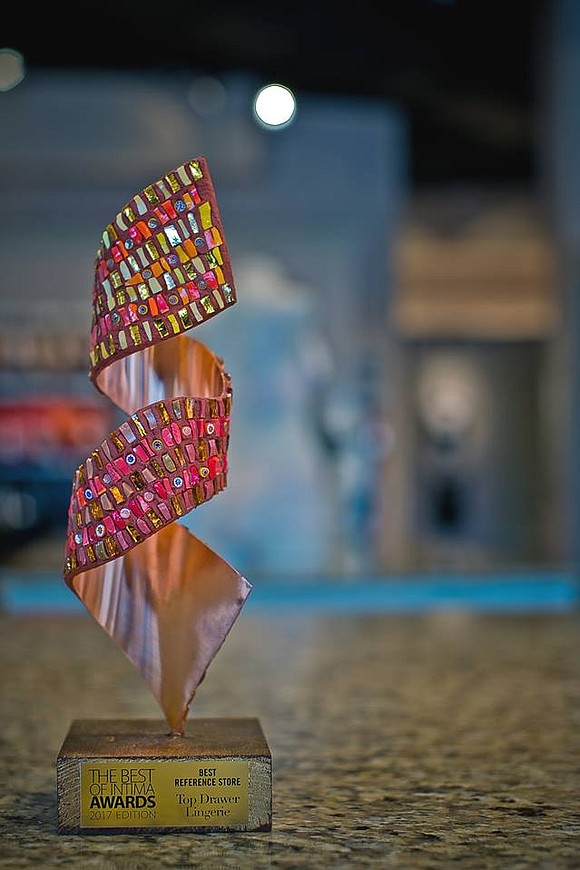 HOUSTON, TX — Locally owned and operated lingerie boutique Top Drawer Lingerie recently received a Best of Intima Award from industry publication Intima Magazine. The annual award honors the best independent lingerie, swimwear, and loungewear retailers in North America and arrived just before Hurricane Harvey devastated the store's hometown of Houston.
For the 2017 Best of Intima Awards, a jury comprising twenty representatives from prominent intimate apparel brands nominated 300 independent retailers across 5 categories. Top Drawer Lingerie won top honors edging out such notables as New York City's Town Shop and Washington D.C.'s Trousseau for the "Reference Store Award". This category recognizes stores for their comprehensive selection of products and being the go-to boutique for intimates in their local area. This isn't the first time the Houston boutique has been recognized by Intima Magazine. Top Drawer Lingerie also won the category in 2005. A second nod is unprecedented, as nominations have historically been closed to previous winners.
"We feel very honored to be recognized by our peers with this award for the second time," says Dow Hickam, Owner of Top Drawer Lingerie. "We're thrilled to be acknowledged as the best lingerie store in North America."
The award came just before Hurricane Harvey plowed through the Texas Gulf. The store escaped the storm with minimal damage, but felt compelled to help neighbors, friends, family, and customers affected by Harvey's wrath. As soon as the flood waters receded, Hickam personally delivered hundreds of new bras and panties to the George R. Brown Convention Center, which was sheltering upwards of 10,000 evacuees. Several industry peers began reaching out to see how they could help, Hickam called on manufacturers and luxury intimate brands asking for donations, and the store hosted a bra drive where customers could pitch in as well. The Houston Galleria-area business worked with local partners including the Underpants Fairy, I Support the Girls' Houston affiliate and The Faulk Foundation to distribute the donations to women in communities across the Greater Houston area. To date, Top Drawer Lingerie has donated more than $200,000 in new panties and new and gently used bras to more than 5,000 women affected by the widespread flooding.
"We were blown away by the number of donations we received, from individuals, other boutiques and lingerie manufacturers," says Hickam. "There are so many Houstonians who have lost everything, and our city has a long road to recovery ahead. By donating much needed essentials like clean, new undergarments, we're hoping we can help families regain that sense of normalcy a little quicker."
Top Drawer Lingerie is a family owned and operated Houston boutique that just recently celebrated its 34th year in business. The storefront nestled in Uptown Park welcomes clientele with a savvy team of experienced bra fitters, and a sophisticated interior where their luxurious products adorn the walls. Customers unable to frequent the boutique in person can shop online and receive assistance by phone. Top Drawer Lingerie carries an expansive selection of bras, panties and shapewear, along with sleepwear, bra-sized swimwear, and robes, from luxury collections including Empreinte, La Perla, Lise Charmel, Marie Jo, Prima Donna and Simone Perele. Each piece is carefully selected with quality, comfort, and design in mind.