LUCKYRICE Houston Feast October 27: A Benefit for Hurricane Relief
The Original Asian Food Festival Will Donate All Proceeds to Houston Food Bank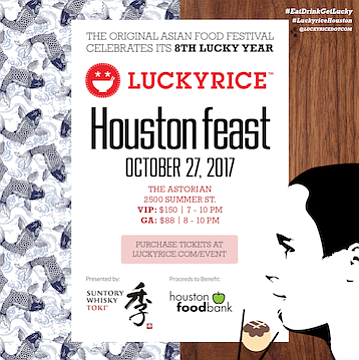 HOUSTON, TX (October 5, 2017) – On October 27th, the Houston LUCKYRICE Feast, alongside the city's best Asian-inspired restaurants and chefs, returns to The Astorian to help raise money for Hurricane Harvey relief efforts. The night's proceeds will be donated to the Feast's charitable partner, Houston Food Bank, and LUCKYRICE's presenting sponsor, Suntory Whisky, will match all proceeds in an additional donation.
Houston, near and dear to LUCKYRICE founder Danielle Chang, was the first city she immigrated to from Shanghai as a child. "The city represents the American dream for our family, and it's always a joy to go back to Texas with LUCKYRICE after so many decades," said Danielle Chang. "It's amazing to see how Asian culture has become an indelible part of Houston's fabric, from the Korean take on barbecue to new hybrids of the seafood boil created by Vietnamese refugees. And it's an honor to give back to a city that's given me, and so many other Asian-Americans, so much."
Underbelly, Mala Sichuan Bistro, and Ramen Tatsu-Ya are a few of the participating vendors contributing to the night's Asian-influenced, walk-around tasting menu. As with all LUCKYRICE Feasts, spirits will flow. Stay hydrated with Suntory Toki highballs, Asahi Beer, and Bruce Cost Ginger Ale.
A few of the night's tantalizing delights you'll find at LUCKYRICE Houston include:
Underbelly's Vietnamese Pork Thit Kho Banh Tet;
Ramen Tatsu-Ya's Smoked Chashu Onigiri, a rice ball stuffed with smoked pork and wrapped in mustard greens; and
Yuu Sahng, a type of Chinese noodle with raw vegetables and a raw fish salad, by Izakaya
Tickets to this year's LUCKYRICE Houston Feast are $88 for General Admission and $150 for VIP Access. To purchase tickets to LUCKYRICE Houston, please visit www.luckyrice.ticketfly.com
Luckyrice Houston
The Astorian
2500 Summer St.
Houston, TX 77007
Friday, October 27, 2017
VIP: 7:00PM-10:00PM
GA: 8:00PM-10:00PM