5 Things for October 9: DACA, Donald Trump, Harvey Weinstein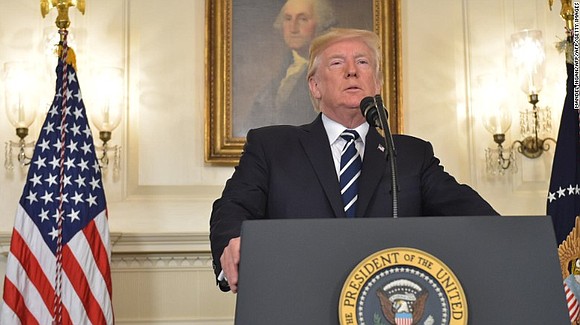 By Doug Criss, CNN
(CNN) -- It's Columbus Day (or, in some places, Indigenous Peoples Day). Donald Trump's presidential proclamation for the day is a lot different than Barack Obama's. Here's what you need to to Get Up to Speed and Out the Door.
1. DACA deal
Hopes for a DACA deal diminished dramatically after the White House put out an aggressive list of demands. The Trump administration wants tougher immigration and border security measures, crackdowns on sanctuary cities, green card restrictions and money for the President's border wall. Those are all non-starters for Democrats, whose votes will be needed to OK a deal that would let the so-called Dreamers -- undocumented immigrants brought to the US as children -- stay. President Trump said he would end DACA but gave Congress a six-month window to come up with a fix.
2. Politics
Well, you knew it was coming. Outgoing Tennessee Sen. Bob Corker publicly criticized President Trump a few days ago. Trump struck back over the weekend via -- what else? -- his Twitter feed. The President claimed Corker begged him for an endorsement (something Corker's team denies) and said he didn't "have the guts" to run again.
Corker was having none of that, tweeting out that the White House is "an adult day care center" and someone had missed their shift. Wow. But Corker wasn't done. Later he told The New York Times the President was putting the world on a path to World War III.
Meanwhile, Vice President Mike Pence left an NFL game in Indianapolis after players for the San Francisco 49ers kneeled during the national anthem. But some folks are calling what he did a pre-planned stunt. And an expensive one too, for taxpayers, since his trip to Indy cost $100,000. At any rate, he missed a great game, as the Colts prevailed in overtime over the winless 49ers.
3. Harvey Weinstein
Just three days. That's how quickly Harvey Weinstein was fired from the film company he co-founded after an investigation by The New York Times detailed numerous sex harassment allegations against the media mogul. The board of directors at The Weinstein Company said the decision was made because of the new information on Weinstein's alleged misconduct. Since the Times story broke, it also became clear the company would lose some clients if Weinstein remained.
There's political fallout from the story too, with Republicans putting pressure on Democrats to return campaign contributions from Weinstein, who has donated to Democratic candidates and liberal causes for years. Democratic Sen. Chris Murphy says Dems ought to give the money back.
4. Spain
A week of extreme political uncertainty begins. After last week's referendum, the president of Catalonia vows to declare independence for the self-governing region any day now. But Spain's Prime Minister promises to use every tool within the law to stop that, including threatening to invoke a never-before-used clause in the Spanish constitution to suspend Catalonia's autonomy. The standoff has plunged Spain into its most serious political crisis in four decades, since the country transitioned to democracy.