Catalonia Faces Uncertainty Amid Independence Standoff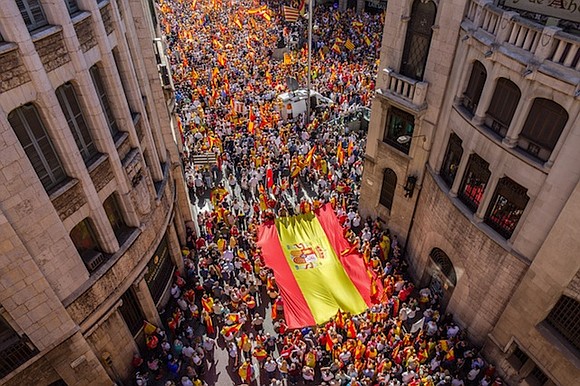 By Hilary Clarke and Angela Dewan, CNN
(CNN) -- Spain faces a week of deep political uncertainty as the secessionist leader of Catalonia considered whether to make a unilateral declaration of independence, against the backdrop of a bitter standoff with the central government in Madrid.
Catalan President Carles Puigdemont had been expected to make a formal declaration at a specially convened session of the Catalan parliament on Tuesday.
But there was intense speculation on Monday about whether Puigdemont would go ahead with such a provocative move -- particularly in the light of a huge rally against independence in Barcelona at the weekend that exposed deep misgivings about his tactics among some sections of Catalan society.
The French government said on Monday that it would not recognize an independent Catalonia, and that independence would result in automatic expulsion from the European Union.
In an interview with the French TV station CNews, Nathalie Loiseau, France's minister of European affairs, said any declaration of independence would leave Catalonia isolated. "If independence were to be recognized -- which is not something that's being discussed -- the most immediate consequence would be that (Catalonia) automatically left the European Union," she said.
Spanish Prime Minister Mariano Rajoy said he was determined to prevent a breakaway by the northeastern province, which is the powerhouse of the Spanish economy, in the wake of a banned referendum on October 1.
"Spain will not be divided, and the national unity will be preserved. To this end we will employ all the means we have within the law. It is up to the government to make decisions, and to do so at the right moment," Rajoy said in an interview with German newspaper Die Welt on Monday.
"We have listened to many people. I believe we know what Spaniards think, and they should know that the government too is clear about what it has to do," he said.
Spanish Deputy Prime Minister Soraya Sáenz de Santamaría said in an interview on Spanish radio that the government would invoke powers to take control of the regional government if Catalonia went ahead and declared independence.
What's at stake?
The stakes are high for both Spain and Europe if Catalonia chooses to break away.
Catalonia accounts for nearly a fifth of Spain's economy, and leads all regions in producing 25% of the country's exports, CNN Money reports. It contributes much more in taxes (21% of the country's total) than it gets back from the central government.
The prospect of an independent Catalonia has already prompted two major banks and some other businesses to move their registered headquarters to other parts of Spain.
There is more at stake for Madrid than losing wealth. The country has 17 regions with varying degrees of autonomy, and losing one may inspire others to begin, or revive, separatist movements.
But there are many other unanswered questions, including continued membership in the European Union.
If forced to apply independently for EU membership, Catalonia would have to convince all of the bloc's current members, including Spain, to agree.