More Than 5,000 Wells Fargo ATMs Launch NFC-Enabled Mobile Wallet Capability
Wells Fargo debit card customers can now use "tap and pay" functionality to access more than 40% of Wells Fargo ATMs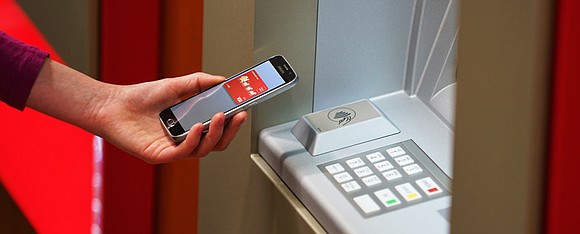 SAN FRANCISCO--(BUSINESS WIRE)--Wells Fargo & Company (NYSE:WFC) announced today that debit card customers have another way to use the company's ATMs without their card -- "tap and pay" near-field communication (NFC) functionality that is launching at more than 5,000 ATMs across the country.
The feature is activated using a mobile phone's mobile wallet feature. Today, more than 40% of Wells Fargo ATMs have functioning NFC capability, with the goal of upgrading the rest of the company's more than 13,000 ATMs with the hardware by 2019. Customers can already access any Wells Fargo ATM without a physical card by generating a one-time access code through their Wells Fargo Mobile® Banking app. With the launch of one-time access code in March 2017, Wells Fargo became the first large bank in the US with an entire fleet of card-free ATMs.
"This spring's launch of one-time access code technology at all Wells Fargo ATMs has resulted in nearly three million card-free ATM access code transactions. Card-free ATM use will take another leap as we introduce NFC functionality," said Jonathan Velline, head of Strategy and Administration for Community Bank. "The NFC functionality is a second form of card-free access and is an extension of our promise to reach our customers wherever they are and provide value using the mobile option with which they are so comfortable."
A customer can initiate an ATM transaction by signing into leading mobile wallet features, such as Wells Fargo Wallet for AndroidTM, Apple Pay®, Android PayTM or Samsung Pay, found on mobile phones. They simply hold their phone or wearable device with mobile payment functionality near an NFC-enabled ATM terminal. Wells Fargo ATMs enabled for this feature will display a "contactless symbol" decal on the front of the ATM. The customer will then input their Wells Fargo Debit or EasyPay® Card Personal Identification Number (PIN) and complete their transaction.
"According to Forrester, by 2021, mobile payments volume in the U.S. will triple," said Jim Smith, head of Virtual Channels. "Our customers are increasingly using mobile to manage their finances and make payments, which makes it ever important for Wells Fargo to provide our more than 20 million mobile banking and mobile wallet customers with a seamless mobile authentication and access experience at our ATMs, online, and in our branches."
To see this technology in action, visit Wells Fargo Stories.
For more information, visit www.wellsfargo.com.