Trump May Trade Twitter Spats for Tax Push ... for Now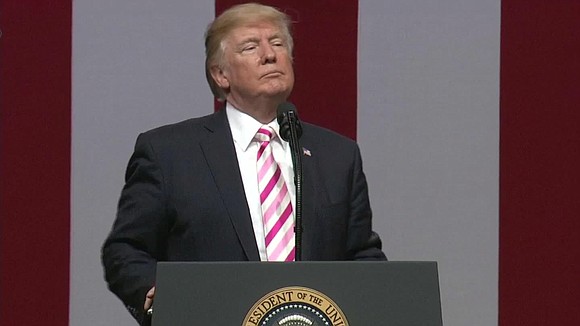 By Stephen Collinson, CNN
(CNN) -- In Washington, President Donald Trump is often his own worst enemy.
He rarely misses a chance to berate elite Republicans in Congress for failing to enact his ambitious agenda. Yet his tweeted tantrums and fierce character attacks -- often targeting his own team -- directly undermine his chances of building a Capitol Hill coalition to get things done.
On Wednesday, if he can avoid trampling over his own message as he so often does, Trump will try to ease that contradiction by using the power of the presidency in a unusually conventional way, to build support behind a top priority: tax reform.
After days flinging insults at GOP Sen. Bob Corker, sniping at his Secretary of State Rex Tillerson and complaining about a bad rap from the press on his hurricane relief efforts, Trump plans to actually fixate on something that matters.
In an airport rally-style event near Harrisburg, Pennsylvania, the President will gather truckers and business leaders to highlight his vows to cut middle-class taxes, lift the corporate tax burden and to ignite soaring growth.
"When your trucks are moving, America is growing," Trump will tell supporters, according to a senior administration official. "America first means putting American truckers first."
Republicans want a win
The tax reform initiative is crucial for the President's hopes of finally notching a major legislative victory before the end of his first year in office. It means as much to Republicans who are desperate to show the spoils of their one-party rule in Washington to restive voters at the dawn of midterm election year.
But there is an even more significant dimension to the tax push since it may be the last chance for Trump and Republicans to find common cause and to bind the deep wounds left by their acrimonious failure to repeal and replace Obamacare.
Failing to secure reforms would be certain to drive an even deeper wedge between a President who vowed to drain the Washington swamp and establishment lawmakers who already fear assaults from Trump-style insurgents roared on by Steve Bannon in primary races next year.
Inside Steve Bannon's war against Mitch McConnell
Given the importance of the issue, it might have got more of Trump's attention. But he's spent much of his time recently pulling at the fractures in his own party and waging culture-war fights about patriotism and kneeling NFL players.
Since he launched the tax push in Indianapolis on September 27, Trump's cause has barely advanced. In fact, it may have slipped backwards.
The trip will be Trump's first chance to bring the symbolism of his office to bear since his showdown with the Tennessee senator, who warned that his unpredictable temperament could ignite World War III, earning in return a new nickname from Trump: "Liddle' Bob Corker."
While the feud indulges Trump's relish for a fight, it could also be counterproductive, since the narrow nature of the GOP's Senate majority means he can hardly afford to lose any allies. Corker has already expressed concern about the tax reform bill, warning he may vote no if it adds to the deficit.