LaTanya Michell Brooks Pushes for STEM Education
'Marisol' encourages young children to follow dreams, demonstrates importance of parent/child communication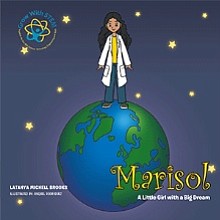 HOUSTON – As a science, technology, engineering and mathematics (STEM) teacher, LaTanya Michell Brooks encourages participation in STEM subjects to all students at her school. Brooks always wanted to write children's books, and with her involvement in STEM, she wrote "Marisol: A Little Girl with a Big Dream" (published by Xlibris).
"Marisol: A Little Girl with a Big Dream" is written to help young children and their parents realize that great possibilities are limitless. Marisol has big dreams that her mother does not realize. She experiences different emotions as she reveals her true heart's desires to her mom. At first, Marisol is very hesitant, not knowing how her mom would react. Later, she suddenly feels empowered to speak up. Marisol is pleasantly surprised by her mom's reaction.
Brooks' goal is to design books that inspire children, especially at-risk children, to pursue STEM-related careers. Traditionally male oriented, STEM careers are often viewed as careers that are not pursued by women, much less minority women. She also feels it is important to eliminate some of the handicapping implicit biases people unconsciously impose on themselves and others. Brooks continues to promote STEM awareness to create a more diverse STEM community.
"I believe that this book will appeal to readers because it is relatable, motivational and encouraging. STEM is an exciting, hot topic that is essential to 21st century learning. For teachers and parents, there are follow-up questions that assess children's comprehension and emphasize the importance of an open a dialogue between parents or teachers and kids," says Brooks.