Ireland On Lockdown as Former Hurricane Ophelia Makes Landfall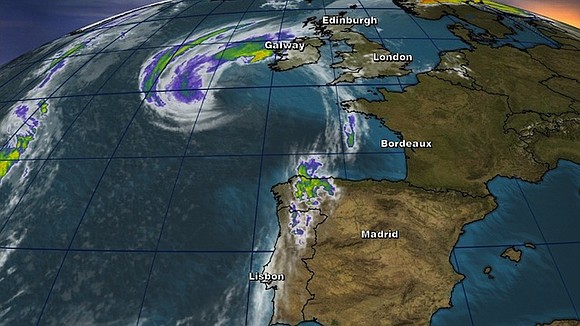 By Susannah Cullinane, CNN
(CNN) -- Former Hurricane Ophelia hit Ireland's west coast as a post-tropical storm on Monday, bringing with it strong winds, heavy rain, and the threat of storm surge and flooding.
At least one woman was killed when a tree fell on her car in County Waterford, spokesman for Ireland's national police, An Garda Siochana, told CNN.
Met Éireann, Ireland's National Meteorological Service, extended a red wind warning to cover the entire country through Monday, cautioning that there was a "danger to life and property."
Speaking at a press conference on Monday morning, Taoiseach Leo Varadkar advised everyone in the country to stay indoors until the storm passes, urging people to work from home where possible and "take care of the elderly around you."
"I don't want anyone to think that this is anything other than a national emergency," Varadkar added.
Met Éireann tweeted that since 10 a.m. (5 a.m. ET) a wind gust of 176 kilometers per hour (109 miles per hour) had been recorded at Fastnet Rock, off the coast of Cork. A gust of 124 kilometers per hour (77 miles per hour) had been recorded at Cork Airport, it said.
The National Hurricane Center earlier warned that "a dangerous storm surge is expected to produce significant coastal flooding near and to the east of where the center of the post-tropical cyclone makes landfall."
The surge would be accompanied by large and destructive waves, it said.
Ireland prepares
Officials have advised against all unnecessary travel. Ireland's Office of Emergency Planning (OEP) asked that people stay away from coastal areas.
"Recreational water users putting themselves and the emergency services at risk today is totally irresponsible," the OEP said in a tweet.
The Department of Education and Skills has informed all of Ireland's schools, colleges and other education institutions that they are to remain closed Monday.
Irish transport provider Bus Eireann has canceled all bus services from 5 a.m. until 2 p.m. local time. Dublin Bus has predicted significant disruption across its network and said services would be withdrawn from 10 a.m. until 7 p.m. local time. Meanwhile, Irish Rail has introduced speed restrictions expected to result in delays, Transport for Ireland said.
Kerry Airport closed due to the storm Monday, saying on Twitter that it would reopen Tuesday.
Other airports including Shannon, Cork, Dublin, and Ireland West said a number of Monday's flights had also been canceled due to Ophelia.
UK warnings
The Met Office in the UK Monday extended an amber weather warning for Northern Ireland into parts of north and west Wales and the extreme southwest of Scotland. It says gusts of 55 to 65 mph are expected widely with 80 mph gusts likely in places. Yellow weather warnings are also in place for Northern Ireland and parts of Great Britain from lunchtime Monday through Tuesday afternoon.
"Although parts of the UK may experience severe conditions, it's important to realize that not all areas will be affected by this ex-hurricane," it said in a weekend advisory. "For example, much of eastern England will be unusually warm for the time of year but quite breezy on Monday and Tuesday."