Ireland On Lockdown as Former Hurricane Ophelia Makes Landfall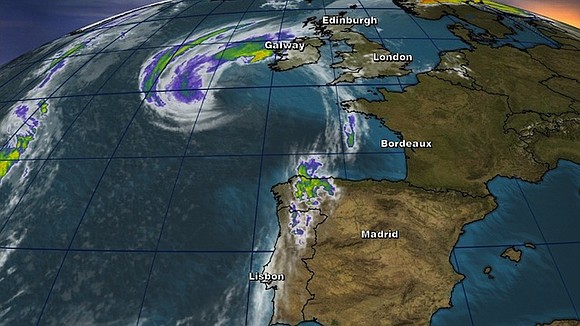 The National Hurricane Center said Ophelia is forecast to produce 2 to 3 inches of rain with isolated totals nearing 4 inches through Tuesday across western Ireland and Scotland.
National Hurricane Center
According to the National Hurricane Center's last advisory on Ophelia, at 11 p.m. ET Sunday (4 a.m. Monday Dublin time), Ophelia was packing maximum sustained winds of 85 miles per hour (about 140 kilometers per hour)
The storm was about 220 miles (355 kilometers) southwest of Ireland, traveling toward the British Isles at a speed of 44 miles per hour (70 kph), it said.
"Gale-force winds are expected to begin across southern Ireland during the next few hours and gradually spread northward across the country during the day on Monday. Hurricane-force winds are forecast to reach the southern portions of Ireland by Monday afternoon," the center said.
"Strong winds will then spread across the remainder of Ireland and parts of the United Kingdom into Monday night. Preparations to protect lives and property should be complete."
The center said it would no longer be issuing advisories on Ophelia, with Irish and British meteorology services providing future forecasts and warnings.
Record breaker
Ophelia's position is the farthest east that a major hurricane has traveled in the Atlantic.
The previous record was held by Hurricane Frances in 1980, according to CNN meteorologist Haley Brink. Frances formed off the northwest coast of Africa near Senegal, according to an archived National Hurricane Center report. Frances never made landfall.
"The odd part about Ophelia is seeing this intensification take place in what's normally a much cooler region of the Atlantic Ocean," CNN Meteorologist Allison Chinchar said.
CNN Meteorologist Derek Van Dam said warm ocean waters in the Atlantic had allowed Ophelia to form.
"Now that Ophelia is moving over colder waters in the northern latitudes of the Atlantic, it is losing its tropical characteristics," he said.
On Saturday, Ophelia was a Category 3 hurricane, but the storm has weakened as it moved northeast. "The post-tropical cyclone is expected to dissipate near western Norway by Tuesday night," the NHC said.
Ophelia is the sixth major hurricane of the 2017 Atlantic basin hurricane season and the 10th consecutive named storm in the Atlantic to become a hurricane. The latter milestone ties a record that has occurred three times, most recently in 1893.
Some British media pointed out that the storm was due to arrive 30 years to the day after the "Great Storm of 1987."
That storm made landfall in Cornwall, southwest England, with winds of 120 mph (about 190 kph), making it the equivalent of a Category 3 Hurricane.
It was not technically a hurricane as it had formed in the Bay of Biscay rather than in the tropics.