Houston Native Serves with the U.S. Navy Half a World Away in Guam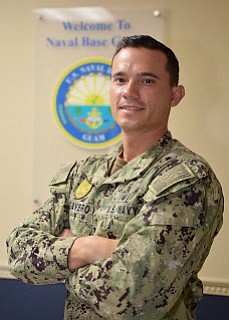 SANTA RITA, Guam – A 2006 Cypress Ridge High School graduate and Houston, Texas, native is serving aboard U.S. Naval Base Guam.
Petty Officer 1st Class Anthony Mugavero is a master-at-arms serving with the Naval Base Guam.
A Navy master-at-arms is responsible for providing waterborne and land security, aircraft and flight line security, strategic weapons and cargo security, maritime security and platform protection. They also conduct customs operations, corrections operations, detainee operations and protective service operations.
"The outdoor life is the best about serving in Guam," said Mugavero. "The beach, hiking, the isolation and distance from everything is also really enjoyable."
Located approximately 3,300 miles west of Hawaii and 1,500 miles east of the Philippines, Guam is a U.S. territory where its residents are U.S. citizens. The island is about 36 miles long, 6 to 12 miles wide and in many ways is an all-American community.
"I am proud to work with and lead the U.S. Naval Base Guam team," said Capt. Hans Sholley, U.S. Naval Base Guam commanding officer. "Our team ranks high in providing top customer service to support the forces of the U.S. Pacific Fleet; the warfighters based on Naval Base Guam; the warfighters serviced and supplied by Naval Base Guam; the commands which provide support to the warfighters; and the families of those stationed here."
Naval Base Guam (NBG) is a consolidated Navy installation with several components across the island.
Naval Base Guam is the home of Commander, Naval Forces Marianas, Commander Submarine Squadron 15, Coast Guard Sector Guam and Naval Special Warfare Unit ONE and supports 28 other tenant commands. It is also the home base of three Los Angeles-class submarines and both of the Navy's submarine tenders, USS Emory S. Land and USS Frank Cable, as well as dozens of units operating in support of U.S. Pacific Command, US Pacific Fleet, 7th Fleet and 5th Fleet.
Sailors serving abroad in Guam are highly motivated and quickly adapt to changing conditions.
"Serving in the Navy gave me drive and goals that made me the into the man I am today," said Mugavero. "It has taught me discipline and given me numerous leadership opportunities."