BMX Racing Is Rad and Totally Back From the '80s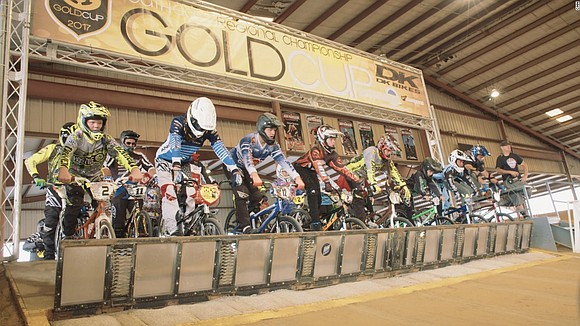 Article by David Allan, CNN Video by Deborah Brunswick, CNN
(CNN) -- The 1980s are alive and well in the heartland of America. BMX. Three letters that evoke -- for anyone Generation X and older -- a cultural Trapper Keeper of desirable possessions including Nike Air, Atari, Walkmans, Vans, MTV and of course that conduit of childhood freedom and rebellion, the Bicycle Motorcross.
Picture unsupervised latchkey kids gathered around VCRs in suburban basements to watch grainy, overly recopied BMX videos of tricks and races. This happened and it was totally awesome.
Born out of the '70s motorcycle race scene in southern California as kids tried to emulate the adults on their own dirt bikes, BMX was a "sport created by kids, for kids," explained John David, COO of USA BMX. It was more than a recreation trend or fad, it soon became a slice of '80s youth culture. There were even big screen films: 1986's "Rad," 1983's "BMX Bandits" starring 16-year-old Nicole Kidman, and of course the boys of 1982's "E.T." all rode BMX bikes.
Like other '80s franchises, BMX is having a reboot.
In race tournaments around the country today there are echoes of BMX's glory days. You will find the iconically familiar bike frames and pointy racing helmets sidewinding and jumping on tricked-out courses. Racing shirts and pants have accents of DayGlo or checkered patterns evoking popular '80s graphic design. On race days, RVs, some having traveled hundreds of miles, are parked around sanctioned racetracks. Parking payment is recorded on paper raffle tickets stubs. It is neither retro nor ironic, just a Polaroid snapshot, instantly and nostalgically come to life.
But while BMX racing is a throwback, it's also all grown up. It has been in the Olympics since 2008, introduced thanks to its popularity at alternative tournaments such as the X Games. It has official international organizing bodies, the largest being BMX USA with 70,000 members. In recent years, the sport has seen more riders, more races and more racetracks built. Today, it's as common to see little kids thrashing it up as it is 40-somethings reliving childhood fantasies.
And while the look of the BMX bike remains iconic, the once-steel frames have been replaced with lighter but durable materials such as carbon fiber. Backyard fun has evolved into sponsored tournaments and going for Olympic gold. And BMX racing is more physically demanding now than it was 50 years ago because this level of professionalism requires serious training. BMX has exchanged its status of pop culture icon for legitimate sport.
Glory race days
The covered yet open-air BMX racing track in DeSoto, Texas has turned the DIY racetracks of the '70s and '80s into an art form. This course, built in 2000, is a 1,000-foot dirt snake of jumps (called "obstacles"), straightaways and banked turns, designed to be challenging and fun, but also fast. Dirt composition tests are done to ensure ideal race conditions.
Last month DeSoto, about 16 miles south of downtown Dallas, hosted one of BMX's Gold Cup races, an annual series of six regional tournaments. It was open to 429 pros and beginners but the herd was quickly thinned. The way a BMX tournament works is not by timing races but round after round -- 99 to be precise -- of eliminations over two days, until winners of each division are declared.
The tourney kicked off with two riders taking the course with flags -- one American, one Texan -- as the national anthem played. The warm-up act was a competition among insanely adorable balance bike racers, open to ages 2 to 5 (though organizers confirmed a rumor spreading in the stands that, indeed, one rider had yet to celebrate his second birthday). One balance biker sported a Teenage Mutant Ninja costume. Several required parental assistance to summit the peaks on the course. There were a few tears.
Then wave after wave of no more than eight riders at a time flew off the retractable starting gate. With each race a flurry of pedaling quickly layered on technique and agility as they hopped over obstacles and leaned near sideways on hairpin turns.
A series of jumps is called a "rhythm section" because each rider needs to quickly discern their own rhythm over them. They could jump several at a time or absorb each one, or a combination. Every obstacle, turn or flat is an opportunity to pass another rider and on these short, crowded tracks it takes skill to avoid collisions. Most riders don't even sit down. Looking closely at the bikes, some have what seems a non-functional decorative seat.
Each race is brief: less than 60 seconds. A new group begins when the previous racers are roughly halfway done. Over and over it goes, family members cheering on, yelling "pedal, pedal, pedal!" The crowd "oohing" and "ahhing" over a fast start, a crowded turn, a narrowly missed collision and other feats of derring-do by these powerful athletes.
As a spectator it first seems repetitive, but then you notice nuance in the skill and get caught in the drama. A fall -- even at another's doing -- or a miscalculated jump, or just a slip of the pedal can be the difference of winning and losing.
When it's all over, trophies are awarded to the category winners. Because they are divided by age and ability (novice, intermediate, expert) even newcomers have a shot at winning their division. Some go home with another trophy for the shelf, but everyone seems to be having the time of their lives.
The family that bikes together
Despite it's cool persona, BMX racing is a family sport. Fans, competitors and organizers agree that because of the generational baton hand-off and the travel involved with tournaments, races are times for families to bond.
"It's an action sport that is not team-sport based, but is a family sport," said David. "The family is the team. When I raced, my dad was my manager and my mom helped with mechanics."
Robertrey Jaramillo from Albuquerque, New Mexico was at DeSoto cheering on his kids and their friends. He has two teenage boys and an older daughter, all of whom raced just like he did in the late '80s as a kid himself.
Jaramillo said that while BMX is a close community that brings his family together, it's also an individual sport. "You can push yourself as hard as you want and accomplish as much as you want," he said.
At the DeSoto race, the oldest racer was 69 and a grandmother. Although most racers are male, it's inclusive of girls and they have separate divisions. The BMX community also doesn't want socio-economics to be a barrier to entry. All sanctioned tracks -- more than 300 across 49 states -- have loaner bikes and helmets. "Any kid can come off the street and BMX," said David, who describes BMX tracks as "sanctuaries for kids."
The sport prides itself on this inclusiveness. "If you're a new rider or a pro, everybody rides," said Jaramillo. "Nobody sits on the bench."
With family and friends involved, there is a huge social benefit for participants. But there are clearly physical upsides as well. The bulk of research on the health benefits of biking are focused on the more traditional long distance variety but BMX biking is a high intensity cardio workout that requires lower body and core strength while also demanding excellent hand-eye coordination.
There are risks to the sport as well, but much recent research dates back to the 1980s. One 1985 study in the Archives of Disease in Childhood found a lower injury rate from BMX biking lower than with ordinary cycling. But bike safety in general has evolved in the last 30 years.
Head injury and broken limbs from crashes are possible in BMX racing, but helmets are a required on sanctioned tracks and races. Some racers wear padding and guards to protect neck, chest and limbs. But overall, falls are infrequent and most racers get back on their bikes and make it over the finish line.
The physical demands and even risks largely still make BMX a young person's sport but you see racers out there in their 40s, old enough to remember the glory days. They need not pass you by.