NAACP Warns Black Passengers About Traveling With American Airlines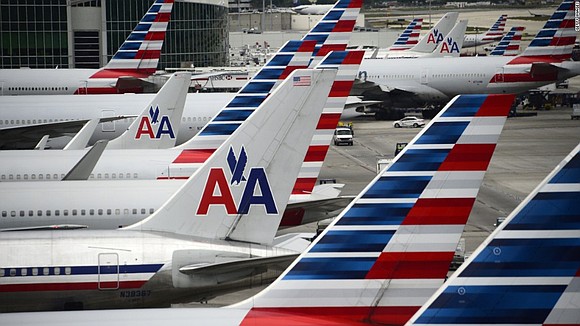 Rob McLean and Jill Disis
(CNN Money) -- The NAACP is warning African-American travelers to be careful when they fly with American Airlines.
In an advisory late Tuesday, the organization said it has noticed "a pattern of disturbing incidents reported by African-American passengers, specific to American Airlines."
The NAACP cited four examples of black passengers who it said were forced to give up their seats or were removed from flights.
It said the incidents "suggest a corporate culture of racial insensitivity and possible racial bias" and advised travelers to exercise caution.
"Booking and boarding flights on American Airlines could subject them [to] disrespectful, discriminatory or unsafe conditions," the advisory said.
Related: Get ready for a more militant NAACP
American Airlines CEO Doug Parker said in a memo to staff that the company was "disappointed" to hear about the NAACP warning.
"We fly over borders, walls and stereotypes to connect people from different races, religions, nationalities, economic backgrounds and sexual orientations," Parker wrote in the memo, which the company released to reporters. "We do not and will not tolerate discrimination of any kind."
He said the airline has reached out to the NAACP to meet with them. NAACP President Derrick Johnson had called for a meeting with the airline's leadership.
Related: NAACP issues its first statewide travel advisory, for Missouri
The NAACP warning referenced four examples, including one involving a black woman who was removed from a New York-bound flight after she complained that her seat was changed without her consent.
Though the woman was not identified by the NAACP, she spoke to CNNMoney about the incident.
That woman, Tamika Mallory, said she had gotten into a heated exchange earlier this month with a gate attendant at the Miami airport who she described as "very disrespectful" and "very dismissive." Mallory said she told the attendant that she would file a report about the incident.
Mallory, a civil rights activist and the co-chair of the Women's March on Washington, said the pilot of the aircraft, a white man, witnessed the end of the encounter and pulled her aside.
"The first words to come out the pilot's mouth to me are, 'Respect is a two-way street,'" she said, adding that he asked her whether she could behave herself on the flight.
Mallory said she told him there would be no issue and boarded the plane. She said she sat quietly for 10 minutes before being asked to get up and leave.
As she left, Mallory said, she saw the pilot again.
"He looks at me and points and says, 'Yeah, her. Off.'"
Mallory said she told an NAACP board member about the incident and tweeted details from her encounter with the pilot.
Since then, she said many people have told her their own stories about similar incidents.
"Some of them are actually friends of mine," Mallory said. She added they "have felt that there is a level of aggression in terms of how people, particularly black women, are being handled on these flights."