U.S. Coast Guard Pilot Jason Brownlee Rescued More People in Hurricane Harvey than in Rest of His Career Combined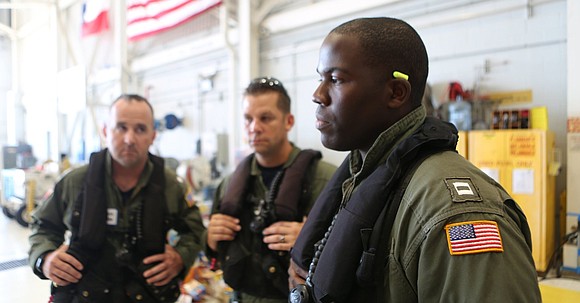 by Melissa Jeltsen, Andy Campbell via huffingtonpost.com
ELLINGTON FIELD JOINT RESERVE BASE, Texas ― At 3 a.m. on Sunday, Jason Brownlee, a pilot with the U.S. Coast Guard, woke with a start. His phone was ringing. While he was asleep, Hurricane Harvey had slammed into the greater Houston area, bringing extreme winds and heavy rainfall. His bosses wanted him back at the U.S. Coast Guard Air Station Houston ― ASAP. There was one problem, though. Brownlee, 34, was already flooded in.
"Every road that I could take to get in was impassable," he said. So his team pulled the maneuver they knew best: They scrambled a rescue aircraft and picked him up in an elementary school parking lot near his house."I came in, put my uniform on, grabbed my gear, a crew, a helicopter," and took off, he said, flying the first of what would be many rescue missions in the days to come.
Coast Guard rescue workers had been working nonstop since the hurricane made landfall. Many of them left families behind. One serviceman's wife was in labor as he worked to aid his community. Several Guardsmen at Ellington Field lost homes and vehicles of their own, while others, such as Eric Cybulski, were initially unable to get to the air base to help because of severe flooding.
"This one caught a lot of people off guard," Cybulski said. "I don't think the Houston area was expecting something of this magnitude ― this much rain."
Brownlee said he was humbled after flying over Houston early on in the storm. He didn't see any damage, and although he was ready to act at a moment's notice, he figured the worst was over. Hours later, he'd wake up to a call demanding that he get back to his chopper.
"My famous last words were, 'Hurricane Harvey is going to be nothing,'" he said.
He would save 20 lives over the course of the next few days ― three times as many people as he'd rescued since he became a pilot three years ago.
To read full article, go to: This Pilot Rescued More People In Harvey Than In The Rest Of His Career Combined | HuffPost