Texan Whitney Mercilus Throws Back to School Bash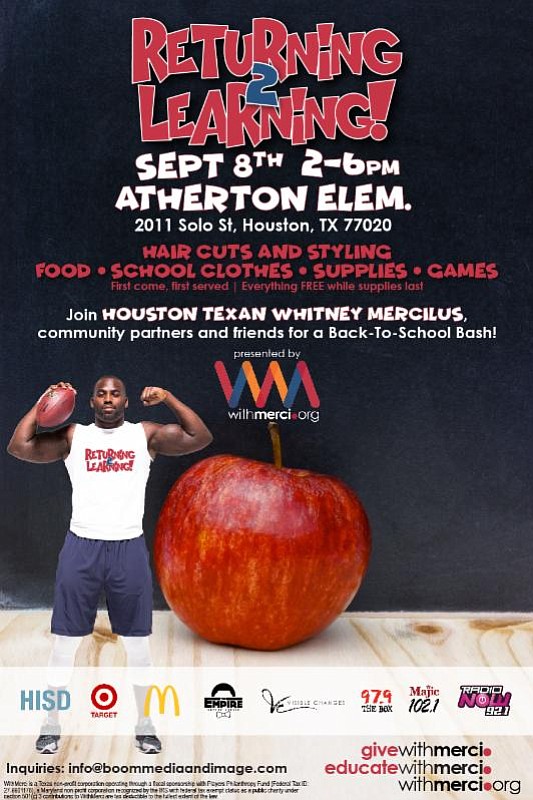 HOUSTON, TX - Houston Texans Whitney Mercilus is known for showing NO MERCI on the field, but off the field, he is known as a gentle giant within the community. Like most Houstonians, in the aftermath of Hurricane Harvey, Mercilus and the WithMerci Foundation are champions on the road to recovery. This journey starts with assisting students and families living in communities impacted in Northeast Houston. Join Whitney Mercilus, his teammates, Texans mascot Toro and community partners for "Returning 2 Learning" Friday, September 8, 2017 from 2:00 p.m. to 6:00 p.m. at Atherton Elementary School located at 2011 Solo St., Houston, Texas 77020.
As the students prepare to return to the classroom, Mercilus wanted to ensure that they were equipped with the necessary essentials to be successful as they embark upon a new academic year. This event is an opportunity for 300 Houston Independent School District (HISD) elementary and middle school children to receive FREE haircuts, hairstyles, backpacks and school supplies.
As a sponsoring partner the McDonald's Owner/Operators Association of Greater Houston will have their food trucks on hand to provide meals to the students and their families.
"I started the WithMerci Foundation because I love working with children, and I've developed a passion to help underprivileged kids and their families. Hurricane Harvey devastated our city and communities but the heart of Houston lies within the resiliency of our people. We play every Sunday with the city of Houston supporting us, it feels amazing to give them that same love and support as we work to rebuild and heal our communities" said Mercilus.
Mercilus has witness the power of "hoUSton Strong" through the tremendous amount of support he and the WithMerci Foundation received from community partners such as: Target, Visible Changes, Radio One, Empire Barber Studio, Walmart, HISD and the McDonald's Owner/Operators Association of Greater Houston. The collaborative efforts of change agents Wanda Adams, President of the HISD School Board and Rhonda Skillern-Jones, HISD Secretary and Trustee of District 2 were awe-inspiring in joining forces with Mercilus and the WithMerci Foundation to meet and exceed the needs of these children. These community giants are evidence that "only inspired people can inspire people!"
For more information, please visit www.withmerci.org. Also, follow @withmerci on Facebook and Instagram using #WithMerci and #Returning2Learning.
ABOUT the WITHMERCI FOUNDATION
The WithMerci Foundation provides opportunities and financial support to families of children with disabilities and specials needs. This year the foundation focuses on children with autism. The WithMerci Foundation will present donations to three (3) special organizations that are currently working with autistic children.