Hurricane Harvey Hits Houston
Vicky Pink | 9/8/2017, 11:17 a.m.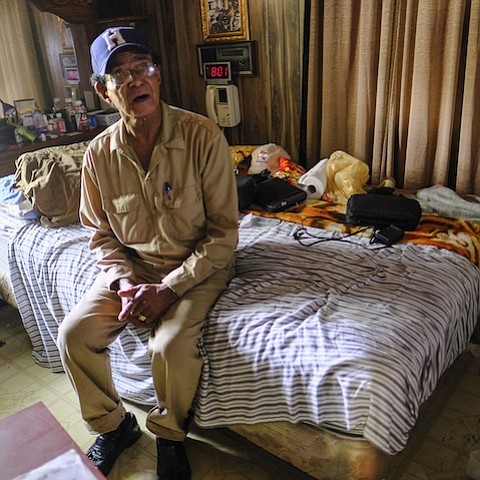 August 27, 2017, was one of those nights that I didn't sleep. The threat of Hurricane Harvey looming and the fact that no one could reach my dad kept me up. I stayed up all night watching the news (KTRK Ch.13) and checking for updates on the water levels of the Hunting Bayou. Houston is bayou city and the majority of my family lives by Hunting Bayou. Running less than a block from my family's homes also known as the Compound since within the area my father, mother, two sisters, brother-in-law, aunt, cousin and some renters all live. I even used to live in one of the houses there as well.
Our family was no stranger to hurricanes. I can recall when Hurricane Allison hit. I was going through a divorce and living in my father's house with my three children. During the night, my sister Patricia and I would walk down the driveway to the end of the street to check the bayou. In over forty-five years, their homes had never flooded. Soon, the water level crept up the street into the yards and up to the door. My father opened a side door and water gushed in. We scrambled to pick up valuables off the floor. By daylight, there were over 3 feet of water inside the house. My father cut the power off when the water got close to the wall sockets. My 10-year-old Jasmine stayed up through the night using the light of candles to help me put boxes of photos and videos on top of bunk beds. I carried my 6-year-old Amir and 4-year-old Kailah on my shoulders to a neighbor's home that had not flooded. The water stayed for days and we lost almost everything. sis Trying to get assistance was a nightmare and here it was again with Hurricane Harvey.
I spent the night before calling my sisters to let them know how much the water level in the bayou was rising. I told them not to go to sleep. Knowing that all them were safe was a comfort to me but my dad was still missing in our eyes. After 2 am, our 83-year old dad's phone started going straight to voicemail.
Thoughts of Hurricane Allison crept into my mind when Hurricane Harvey made landfall. I panicked at the thought of my mother being in a flooded house. And I almost did. The water had risen all around my family's Compound. It was now at the door of my family members' homes. I reached out to friends and elected officials to rescue them. I told them how the rescue was so urgent due to my mother's immobility and colon cancer. As I pleaded and prayed for her to be taken out of harm's way, I knew that the decision would ultimately be up to my sister. I was told that she was on a list.
Besides my mother, I was still concern about my sister's husband condition, Delas. He was recently in the hospital with a leg injury. There, he found out that he had kidney failure. His wife is a two-time breast cancer survivor. At 3 am, she said water was coming into their home.