Houston Native Serves Aboard Guided Missile Cruiser in Japan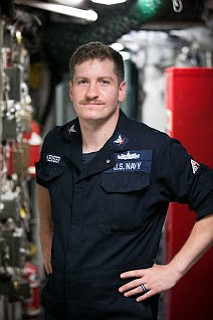 YOKOSUKA, Japan – A Houston native and 2008 Cypress Springs High School graduate is serving in the U.S. Navy aboard the guided missile cruiser, USS Chancellorsville.
Petty Officer 3rd Class Christopher Keiser is an electrician's mate aboard the forward deployed Ticonderoga-class guided missile cruiser operating out of Yokosuka, Japan. Chancellorsville is one of three cruisers forward-deployed in Yokosuka.
A Navy electrician's mate is responsible for the ship's power and electrical distributions systems and anything on the ship powered by electricity.
"Growing up I learned to stay humble and I continue to be flexible around people every day," said Keiser.
With more than 50 percent of the world's shipping tonnage and a third of the world's crude oil passing through the region, the United States has historic and enduring interests in this part of the world.
"Our alliance is rooted in shared interests and shared values," said Adm. Harry Harris, Commander, U.S. Pacific Command. "It's not hyperbole to say that the entire world has benefited from the U.S.-Japan alliance. While our alliance helped stabilize the region after the Second World War, it also enabled the Japanese people to bring about an era of unprecedented economic growth. And for the last six decades, our Soldiers, Sailors, Airmen, Marines and Coast Guardsmen have worked side by side with the Japan Self Defense Force to protect and advance peace and freedom."
Approximately 300 men and women serve aboard the ship. Their jobs are highly specialized and keep each part of the cruiser running smoothly, according to Navy officials. They do everything from maintaining gas turbine engines and operating the highly sophisticated Aegis weapons system to driving the ship and operating small boats.
Forward-deployed sailors are crucial to the success of the global Navy mission and earn high praise from their leaders.
"Japan is completely different from home," said Keiser. "The public transportation is incredible here with the ability to travel almost anywhere. I like the fact that I'm forcing myself to learn Japanese phrases. It gets me out of my comfort zone. I'm proud that I could get qualified to wear the warfare pin, it took a long time. I'm also excited that I completed my Seaman to Admiral package and I'm hoping to get selected for officer soon."
Sailors serving abroad in Japan are highly motivated and quickly adapt to changing conditions, explained Navy officials.
"Being forward deployed, you are at the forefront of modern naval warfare and you are asked to rise up to the occasion at any time," added Keiser.
A Navy cruiser is a multi-mission ship that can operate independently or as part of a larger group of ships at sea. The ship is equipped with a vertical launching system, tomahawk missiles, torpedoes, guns and Phalanx close-in weapons systems.
Sailors play a vital role in the overall military mission around the world.
"The U.S.-Japan alliance remains the cornerstone for peace and stability in the Indo-Asia-Pacific region," said Harris