How Germany Stacks Up Against Its European Neighbors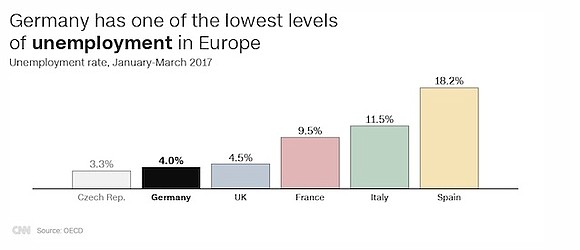 By Judith Vonberg, CNN Graphics by Henrik Pettersson, CNN
(CNN) -- When German voters head to the polls on September 24, they'll have to choose from a record 42 parties, but there are just two realistic candidates for Chancellor -- incumbent Angela Merkel, of the conservative Christian Democratic Union (CDU), and her Social Democratic Party (SPD) rival, Martin Schulz.
Immigration is still a top concern for many German voters after more than a million asylum seekers entered the country over the past two years, but other issues such as income inequality, climate change and an aging population are equally divisive.
Here's how Germany stacks up against its European neighbors on these issues, and what Merkel and Schulz plan to do about them.
ECONOMY
At 4%, Germany has a very low rate of unemployment. And it's been falling fairly consistently -- from a high of 11.5% -- since 2005.
But although the number of full-time jobs has risen, there's been a bigger increase in the number of part-time and low-paid jobs. According to the Federal Employment Office, 4.7 million Germans rely solely on so-called "mini-jobs," which tend to be lower paying and insecure.
Schulz has promised to crack down on precarious forms of employment, pledging to offer workers a way into more secure jobs.
Merkel has herself hired several employees from her own government office to work as "mini-jobbers" on her election campaign -- for which she has been widely criticized -- but wants to see workers in these jobs benefit from the same wage increases as regular employees.
When asked about the hirings at a news conference, she said she saw no problem with employing people on these contracts.
Although Germans earn more on average than British, French, Spanish and Italian workers, incomes have stagnated over the past decade and are now slightly lower than in 2008.
Between 2008 and 2015, the number of people at risk of poverty rose nearly 10%, leaving one in six Germans at risk.
Tackling in-work poverty is a key part of Schulz's campaign.
"Whoever believes that good work deserves fair pay must vote SPD," he said at a recent rally.
The CDU manifesto says that "everyone should be able to afford to live from what they earn," but Merkel herself has said little on the issue, choosing to focus primarily on the country's low unemployment rate.
Figures show that incomes are a little more equal in Germany than in many of its European neighbors. But income inequality has hardly budged over the last decade.
It's a key concern for German voters and a central topic in the election campaign, particularly among Germany's left-wing parties.
"Zeit für mehr Gerechtigkeit" ("time for more fairness/justice") is Schulz's primary campaign slogan and a staple in his speeches.
Asked about social inequality in a live YouTube interview in August, Merkel spoke about employment figures and her government's success in raising the minimum wage.
REFUGEES
Although Germany tops the list for asylum applications this year, the number is a lot lower than in 2015-2016, when the country received more than 1.2 million applications.