Millions Waking Up Without Power as Hurricane Irma Belts Florida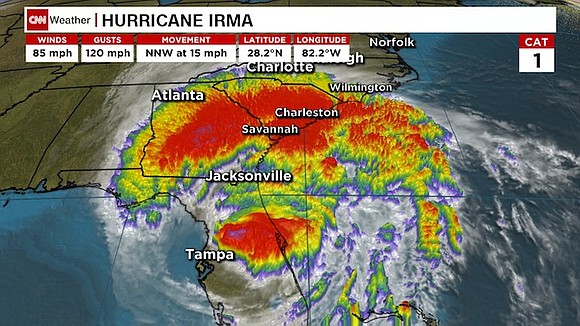 By Faith Karimi and Catherine Shoichet, CNN
(CNN) -- Millions of people from coast to coast in Florida are waking up without power Monday as Hurricane Irma rumbles north, spurring slashing gusts of wind, pounding rain and perilous storm surge.
As dawn approached, mayors and emergency responders across the state implored citizens to stay in place and not to venture outside until crews can assess damage and give the all-clear that it's safe to leave their homes.
The storm left more than 5.7 million customers without power and littered the state with downed trees, downed power lines and standing water. Emergency crews made rescues throughout the night.
The storm is plowing into Georgia and others parts of the Deep South -- Alabama, Tennessee and the Carolinas -- bringing the danger of life-threatening storm surge and hazardous winds.
"We're asking folks to be patient and remain sheltered in place," said St. Augustine Fire Chief Carlos Aviles.
"Stay off the roads, stay off the streets, let us complete our assessment, clear the roads of water, power lines, trees and then you can get out there and determine what happened to your individual property or your neighborhood," said Fort Lauderdale Mayor Jack Seiler.
According to the National Hurricane Center's 5 a.m. advisory, Irma was downgraded to a Category 1 storm, still a monster despite the weakening.
With sustained winds of 75 mph and its center 60 miles north of Tampa, Irma is moving across the northern half of Florida's peninsula.
The hurricane hit southwest Florida on Sunday, battering the state's lower half and leaving a trail of tornadoes and storm-surge flooding as its core slowly moved inland.
The massive storm triggered evacuation orders for 5.6 million people before it made two landfalls in the state Sunday.
The first one was over the Florida Keys, which Irma hit as a Category 4 hurricane. The second one, in Marco Island, was a Category 3 that left the island without water and power, authorities said.
"It's the worst storm I've ever seen," said Bill South, National Oceanic Atmospheric Administration tropical weather program meteorologist.
The latest developments:
-- One person was found dead in Orange County in a single-car accident linked to the storm, police said without providing details.
-- Strong winds and flash flooding are still a threat as Irma spins into north Florida and toward Georgia over the next 24 hours.
-- Irma's center will move near the northwestern coast of the Florida peninsula Monday morning and into southern Georgia in the afternoon, and through southwestern Georgia and eastern Alabama tonight and Tuesday, the center said.
-- Affected states include Florida, Georgia, Alabama, Tennessee, South Carolina and North Carolina.
-- Georgia was already feeling the effects of the storm, with more than 17,000 customers without power in Savannah.
-- Strong winds blowing from the northeast pushed water out of shallow parts of bays and harbors in cities like Tampa and Port Charlotte.
"As soon as the wind shifts direction, the water will come back quickly and continue to move inland," CNN meteorologist Judson Jones said.