Aung San Suu Kyi: The Rise and Fall of Asia's Mandela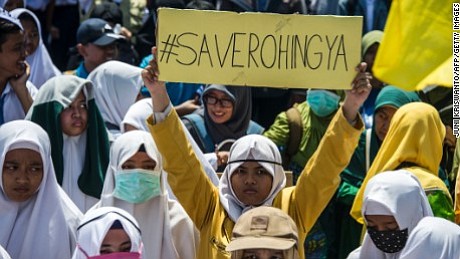 "I think there are many many Buddhists who have also left the country for various reasons and there are many Buddhists who are in refugee camps. This is the result of our sufferings. I think if you live under a dictatorship for many years, people don't learn to trust one another."
According to a book published later, Suu Kyi reportedly emerged from the interview remarking: "No one told me I was going to be interviewed by a Muslim."
Just a politician
Those who continue to defend Suu Kyi argue that even with the extremely influential post she now holds, the Nobel laureate and her civilian partners in government don't control the military and therefore cannot intervene in its campaigns, including the fighting raging in Rakhine State.
On Saturday, British Foreign Minister Boris Johnson said Suu Kyi "faces huge challenges modernizing her country," and that it was "vital that she receives the support of the Burmese military, and that her attempts at peacemaking are not frustrated," referring to Myanmar by its colonial-era name of Burma.
"She and all in Burma have our full support in this," Johnson said.
In 2011, when she was censured for her unwillingness to criticize the military, her backers in the West argued that she couldn't have actually done very much since she was a member of the opposition and that speaking out might have undone any chance she might have had to pursue political power, something she and her party were focused on at the time. Coming down on the military in any way would have been a backward step for Myanmar's progress, they contended.
But in some Western corners at least, the tide may be turning. On September 1, the Washington Post Editorial Board pondered whether it was "too much to ask her to summon the inspiration to lead Burma away from the increasingly bitter and violent conflict with the Rohingya?"
"She might want to reread her Nobel text," the Board remarked, pointing to her words that summoned an original aim "to create a world free from the displaced, the homeless and the hopeless ... a world of which each and every corner is a true sanctuary where the inhabitants will have the freedom and the capacity to live in peace." The Board concluded: "This is not the world of the Rohingya in today's Burma."
In an interview earlier this year with the BBC, reporter Fergal Keane asked Suu Kyi whether she thought that people in the West had misjudged or mischaracterized her, "expecting you to be this sort of amalgam of Mahatma Gandhi and Mother Theresa, for example, and actually maybe you're closer in your determination and steeliness to someone like [former British Prime Minister] Margaret Thatcher?"
"Well no," Suu Kyi answered. "I am just a politician. I am not quite like Margaret Thatcher, no, but on the other hand, I am no Mother Theresa either. I have never said that I was. Mahatma Gandhi, actually, was a very astute politician."