Clinton's Iraq Vote Looms Over Sanders's Single-payer Bill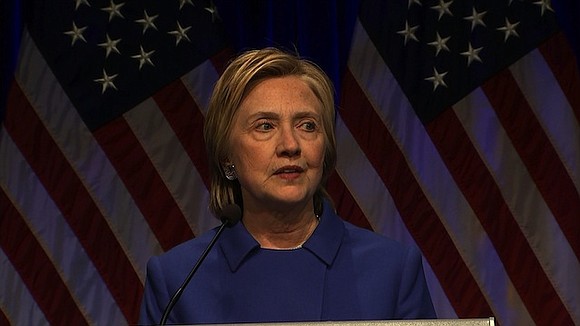 By Eric Bradner, CNN
(CNN) -- The leading Democratic prospects for the 2020 presidential race seem to have learned the lesson of the Iraq war in 2008: If the party is clearly moving in one direction, move with it.
Vermont Sen. Bernie Sanders' introduction Wednesday of a bill that would move the United States to a single-payer health care system is already emerging as a litmus test for the Democratic base -- much like Iraq was in 2008, when Barack Obama campaigned against Hillary Clinton's vote in favor of the war and Clinton resisted saying she'd been wrong.
Now, as Clinton re-emerges for a tour supporting a new book about her 2016 loss, the Democratic Party is again rapidly repositioning itself leftward.
Democratic strategists and early-state officials say demands from the base are so strong that they increasingly see support for single-payer health care as the price of entry into the 2020 presidential contest. And with the notable exception of former Vice President Joe Biden -- who has not weighed in on Sanders' bill -- the best-known and most likely Democratic prospects for the next contest have all lined up behind the bill.
California Sen. Kamala Harris was the first to announce she would co-sponsor the bill last week. Then, Massachusetts Sen. Elizabeth Warren, New Jersey Sen. Cory Booker and New York Sen. Kirsten Gillibrand joined the list. Other leading progressives, including Minnesota Sen. Al Franken, Oregon Sen. Jeff Merkley and Hawaii Sen. Brian Schatz, are also co-sponsors.
Democrats backing Sanders' bill are arguing that eventually embracing single-payer is a moral imperative -- even as they elevate Sanders, their potential future primary foe.
"This is something that's got to happen," Booker said in a local television interview. "Obamacare was a first step in advancing this country, but I won't rest until every American has a basic security that comes with having access to affordable health care."
"Everyone is covered," Warren said in a statement announcing her co-sponsorship, telling the story of her family's plunge deep into debt when her father suffered a heart attack. "Nobody goes broke paying a medical bill. Families don't have to bear the costs of heartbreaking medical disasters on their own."
Will it backfire?
While the political incentive for 2020 prospects to support Sanders' single-payer bill are clear, and the issue energizes progressives, some Democrats worry that such a rapid move leftward will come with steep costs.
The left spent more than a decade developing a consensus around the policies that went into former President Obama's Affordable Care Act. But liberal think tanks and research groups are just starting that work on single-payer health care.
The list of questions Democrats will have to answer is long -- and starts with which taxes will be increased to pay for government-funded health care and whether there will be any long-term role for the private market. Like Republicans' "repeal and replace" promises, every detail of a program that would remake a huge portion of the American economy would be hotly contested.