The Ensemble Theatre Brings Back Sizzling Romantic Comedy "Sassy Mamas"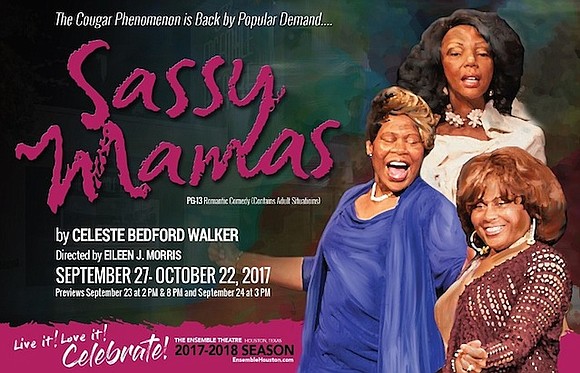 HOUSTON (September 12, 2017) – The Ensemble Theatre brings back sizzling romantic comedy Sassy Mamas, by Houston playwright Celeste Bedford Walker and directed by Eileen J. Morris, Opening Night and Media Reception, Wednesday, September 27, 2016, 6:30 p.m.
"We've waited with great anticipation to bring this show back for a second run after last year's audience response," says Morris. "This show may be the comic relief we need considering the recent impact of Hurricane Harvey…our thoughts and prayers are with everyone who was affected by the floods."
NAACP Image Award-winning playwright Celeste Bedford Walker brings a delicate touch to her depiction of women of a certain age in her romantic comedy, Sassy Mamas. A story about three women—yes, "cougars"—who confidently pursue younger men. These three friends, women of substance and life achievement, each finding herself in a uniquely single situation and decidedly takes a proactive approach to love. The younger men they've set their sights on come with their own unique situations that only add to the humor and antics!
"It's a play about empowerment for women and how they make their choices in life and to be open to different options at whatever season they're in," says Walker
Cast members include: Detria Ward, Alice M. Gatling, Michele Harrell, Kedrick Brown, Roc Living, and Sir Black.
Previews: September 23rd 2:00p.m. and 8:00p.m. and September 24th 3:00p.m.


Show Runs: September 27 – October 22, 2017
Performance Days and Times: Thursdays: 7:30 p.m; Fridays: 8:00 p.m; Saturdays: 2:00 p.m. and 8:00 p.m; and Sundays: 3:00 p.m.
Tickets Available Online: www.EnsembleHouston.com For Information Call: 713-520-0055
Ticket Prices: $23 - $44
Opening Night and Media Reception, Wednesday, September 27, 2017, 6:30 p.m.
The Ensemble Theatre's 2017-2018 Season is sponsored in part by grants from the City of Houston through the Houston Arts Alliance, Texas Commission on the Arts, and the National Endowment for the Arts. United Airlines is the official airline sponsor for The Ensemble Theatre.
The Ensemble Theatre was founded in 1976 by the late George Hawkins to preserve African American artistic expression and enlighten, entertain and enrich a diverse community. In addition to being the oldest and largest professional African American theatre in the Southwest, it also holds the distinction of being one of the nation's largest African American theatres that owns and operates its facility with an in-house production team.
The Ensemble Theatre produces a main stage season of six contemporary and classic works devoted to the portrayal of the African American experience by local and national playwrights and artists. The theatre's Performing Arts Education program provides educational workshops, Artist-in-Residence experiences and live performances for students both off-site and at the theatre; and the Young Performers Program offers intensive summer training for children ages 6 to 17 encompassing instruction in all disciplines of the theatre arts.