Houston Native Serves with U.S. Navy Half a World Away in Japan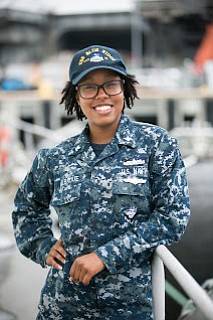 By Mass Communication Specialist 1st Class Tim Miller, Navy Office of Community Outreach
YOKOSUKA, Japan- A 2014 Bellaire High School graduate and Houston native is serving in the U.S. Navy aboard USS Blue Ridge.
Petty Officer 3rd Class Tiara Malbroue is a culinary specialist aboard the forward-deployed amphibious command ship operating out of Yokosuka, Japan.

As a Navy culinary specialist, Malbroue leads junior sailors responsible for planning, preparing and serving meals for nearly 700 sailors every day. They maintain food service spaces and associated equipment including storerooms and refrigerated spaces.
"Growing up I learned not to judge other people," said Malbroue. "With my job in the Navy, I take that a step further and try to better understand their perspectives and how they view certain situations. I also try to love and respect everyone I come in contact with."
With more than 50 percent of the world's shipping tonnage and a third of the world's crude oil passing through the region, the United States has historic and enduring interests in this part of the world.
"Our alliance is rooted in shared interests and shared values," said Adm. Harry Harris, Commander, U.S. Pacific Command. "It's not hyperbole to say that the entire world has benefited from the U.S.-Japan alliance. While our alliance helped stabilize the region after the Second World War, it also enabled the Japanese people to bring about an era of unprecedented economic growth. And for the last six decades, our Soldiers, Sailors, Airmen, Marines and Coast Guardsmen have worked side by side with the Japan Self Defense Force to protect and advance peace and freedom."
USS Blue Ridge serves as the flagship for the U.S. Seventh Fleet. It is one of only two U.S. Navy command ships in the world, providing command and control for fleet commanders.
Forward-deployed sailors are crucial to the success of the global Navy mission and earn high praise from their leaders.
"One thing I'm proud of is that I just finished my information dominance qualification," said Malbroue. "It was pretty intense and took nearly three months of hard studying while I was working. Knowing that this helps me advance in my career is rewarding."
Sailors serving abroad in Japan are highly motivated and quickly adapt to changing conditions, explained Navy officials.
"I believe the Navy is a really good stepping stone in my career," added Malbroue. "It's helped me to learn to work with different personalities. I'm also learning more about myself on a personal level and growing in many different ways."
Sailors play a vital role in the overall military mission around the world.
"The U.S.-Japan alliance remains the cornerstone for peace and stability in the Indo-Asia-Pacific region," said Harris.