Isolated, Trump Embraces New York Friends -- And Instincts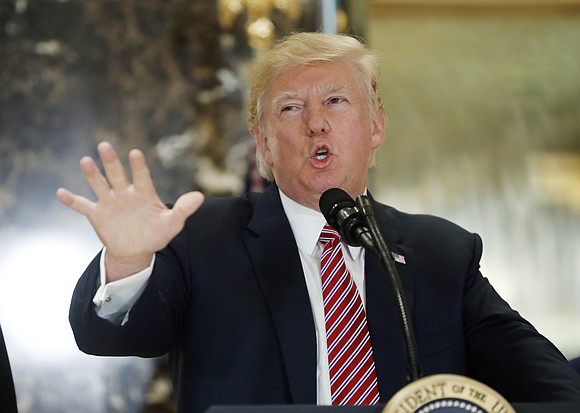 By MJ Lee, CNN National Politics Reporter
(CNN) -- President Donald Trump, who has struggled to find friends and navigate the ways of Washington, appears increasingly at home when surrounded by one distinct group: His fellow New Yorkers.
Half a dozen people who have met with the President or speak with him regularly say the former real estate executive is most energized by and at ease in the presence of people who hail from his home state. They cite a range of cultural factors, including the naturally blunt demeanor that New Yorkers are famous for, as well as overlapping sensibilities on political issues like infrastructure and spending.
Trump's affinity for other New Yorkers led directly to an unexpected political deal last week with Senate Minority Leader Chuck Schumer -- a Brooklyn-born Democrat.
If the abrupt agreement on hurricane funding, the debt ceiling and government spending shocked Republican leaders and even some of the President's most senior staff, New Yorkers who have spent time with the two men didn't bat an eye. It is no coincidence, they say, that Trump would have landed his first legislative deal with perhaps the one person in Washington who embodies New York as much as Trump does.
"If you were at a baseball game in Cincinnati, two New Yorkers in the crowd would easily identify each other. Based on what they're saying, their mannerisms, a little bit of bravado," said New York City Councilman Joe Borelli, who represents Staten Island and co-chaired Trump's New York campaign. "Both men are eager to cut through the BS -- that is characteristically New York."
House Minority Leader Nancy Pelosi, who helped broker the agreement, quipped to reporters afterward about Schumer: "He could speak New York to the President."
Only a matter of time
Others say it was only a matter of time before Trump and Schumer would form a natural alliance, in no small part built on their shared roots. And there is a political history there, too, for the media-savvy and outspoken duo -- Trump has previously contributed to several of Schumer's election campaigns.
GOP Rep. Peter King told CNN that while Congress was stalled for months on health care reform earlier this year, he repeatedly urged Schumer to get into a room with Trump and do what New Yorkers claim they do best: Make deals. King, a veteran congressman who represents a patch of Long Island, said the two men share stereotypically New York temperaments.
Asked to describe what it means to "speak New York," King swiftly rattled off: "It means basically finishing each other's sentences. It means talking fast. It means getting to the point. It means making the occasional exaggeration. It means having a big ego."
Trump's instinct to surround himself with other New Yorkers has come up again and again. He named Anthony Scaramucci, a New York financier and donor, as his White House communications director before firing him days later; he looked to former New York City Mayor Rudy Giuliani as a candidate for secretary of state and former NYPD Commissioner Ray Kelly to be FBI director; and he plucked two men from the New York finance orbit -- Steve Mnuchin and Gary Cohn -- to advise him on economic matters.