The Latin Recording Academy® to Honor Lucecita Benítez, João Bosco, Ilan Chester, Victor Heredia, Los Del Río, Guadalupe Pineda, and Cuco Valoy with The Lifetime Achievement Award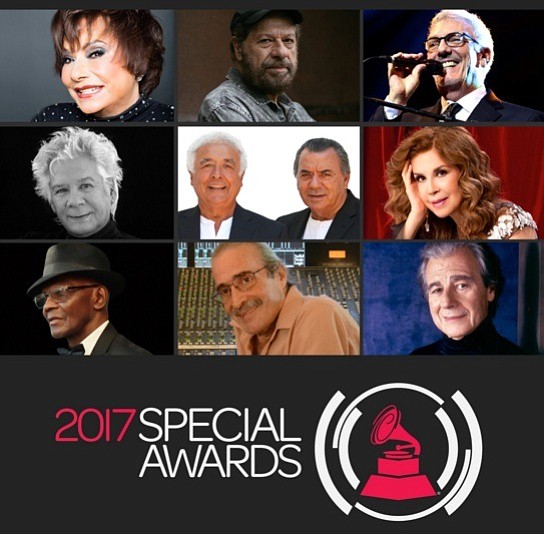 MIAMI, FL (September 13, 2017) – The Latin Recording Academy® announced today Lucecita Benítez, João Bosco, Ilan Chester, Victor Heredia, Los Del Río (Antonio Romero Monge and Rafael Ruiz Perdigones), Guadalupe Pineda, and Cuco Valoy will receive the this year's Lifetime Achievement Award. Jon Fausty and Lalo Schifrin will receive the Trustees Award. The Lifetime Achievement and Trustees Award honorees will be celebrated during a private ceremony held at the Four Seasons Hotel in Las Vegas on Nov. 15 as part of the 18th Annual Latin GRAMMY® Week.
"We are proud to honor such a diverse group of internationally acclaimed artists with this year's Lifetime Achievement and Trustees Awards," said Gabriel Abaroa Jr., Latin Recording Academy President/CEO. "Our 2017 class represents a wide-range of artists that together have contributed to shape Latin music's iconic rhythms and lyrics throughout history. Each honoree is an inspiration to our culture and community as well as a muse for new and contemporary work."

The Lifetime Achievement Award is presented to performers who have made unprecedented contributions of outstanding artistic significance to Latin music and the Latin community. The Trustees Award is given to individuals who have made significant contributions, other than performance, to Latin music during their careers. All the honorees are chosen by vote by the members of The Latin Recording Academy's Board of Trustees.
2017 Lifetime Achievement Award Honorees:
Lucecita Benítez began her career as a young Puerto Rican star, a protagonist of the Nueva Ola pop phenomenon. But her subsequent discovery of the socially conscious nueva trova movement and her elegant interpretation of classic boleros place Lucecita at the very heart of everything that is soulful in Latin music. International fame arrived in 1969 when Lucecita won the first prize in Mexico's Festival de la Canción Latina with the song "Génesis." The next year, she appeared on "The Ed Sullivan Show" and toured the United States extensively.
"I feel deeply honored by The Latin Recording Academy's recognition of my career of more than five decades in this wonderful industry. Receiving such an important prize brings me unequalled pride in the work that I have enjoyed and loved all my life. But above all, it gives me the satisfaction of having faced it with the dignity and poise that the times required of me. Many thanks to The Latin Academy of Recording Arts & Sciences® for allowing me to experience this great moment in my life."— Lucecita Benítez
Lush, soulful, and sophisticated, the songs of singer/songwriter and guitarist João Bosco are an essential part of the música popular brasileira (MPB) movement — the fusion of traditional formats with jazz, rock and funk that blossomed in Brazil in the '60s and '70s. An artist of seemingly unlimited imagination, Bosco is a Latin GRAMMY winner and has received eight Latin GRAMMY nominations. He continues touring internationally and recording to this day.
"It's good to know the way in which we have traversed these many years — and many times we did it in obscurity — is illuminated by the ray of light that reveals us and fills us with pride and gratitude. Thank you for this distinction and honor." — João Bosco