Miss Black America Coed 2017 Roneshia Ray Hangs Up Her Crown, But iDREAM Will Continue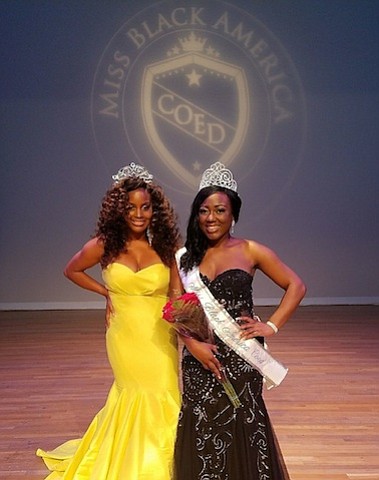 Miss Black America Coed 2017 Roneshia Ray has given up her crown, but that has not curbed her passion to continue to inspire young black women in America. The Houston native ended her reign on September 3rd after crowning Miss Black America Coed 2018 Erica Bryant this past weekend, but she says her iDREAM program will continue long after her reign.
Miss Black America Coed represents leadership, scholarship, and service and during her time as Miss Black America Coed, Roneshia demonstrated that through her IDREAM program for young ladies. The program consisting of several workshops on vision boarding, etiquette, self-esteem, skincare, fashion and more allowed the former titleholder the ability to partner with schools and community organizations to mentor young ladies hands on.
"I have a strong passion for mentorship because I am passionate about young black women reaching their dreams," she said.
Through the program, Roneshia has hosted more than 20 charm schools, impacting more than 5,000 high school aged girls.
"Charm school is like a mirror reflection of myself. I didn't get the proper training growing up and I wanted to give other girls the opportunity to learn about what it's like to go to a gala, how to dress, how to take care of their skin and hair. Charm school focuses on self-confidence and following your dreams," she said.
Roneshia is well versed in not giving up on dreams as she competed for Miss Black Texas, the official state preliminary pageant for the national pageant, multiple times before gaining her title as Miss Black America Coed 2017.
"When I started participating in pageants, I was very young, I was 19. I didn't have a focus and didn't know my purpose in life at the time," said the beauty queen who won the Texas title after her third attempt.
Roneshia said she is slightly grateful for her missed titles because they helped her grow. "If I won Miss Black Texas at 19, I would have wasted a reign because I was not ready at the time. I've definitely come out a different woman than I was when I started."
"I was competing for Miss Black Texas and I was really frustrated about why the other girls were so much better than me. I learned that it's not a competition against them, but it's a competition against you."
A pivotal moment during her pageant career changed her perspective, leading her to her title as Miss Black America Coed. "I accomplished more than I ever thought I could accomplish during my time as Miss Black America Coed," Roneshia said.
Now she has passed that responsibility on to her successor, Miss Black America Coed 2018 Erica Bryant from East Texas. "Erica is in for an eye opening experience," she said smiling. "She is going to learn so much as long as she is open to the experiences and the work. She will walk out a completely different woman."
Roneshia will continue serving girls through her iDream program with the Hierarchy Camp. The week long summer camp incorporates teaching young ladies about how to have a healthy mind and body and think about a future beyond the box that family, friends or society may have placed them in. "We do kickboxing and yoga. We talk about financial literacy and healthy cooking. We also host entrepreneurship classes," said Roneshia.