NFL Players, Owners Come Together to Denounce Trump's Anti-protest Rant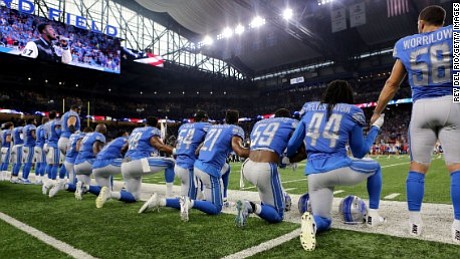 By Euan McKirdy, CNN
(CNN) -- Stadiums across the US -- and even further afield -- became the focus of an unprecedented show of defiance against US President Donald Trump Sunday, as some NFL players locked arms or refused to stand for the national anthem, saying that they are protesting racial and social injustice.
Players from all 28 teams in the league that played Sunday participated in some form of protest. Some teams declined to take the field at all for the pre-game ceremonies.
Players have been protesting the anthem since last August, when then-San Francisco 49ers quarterback Colin Kaepernick started protesting the shootings of unarmed black men by police. Trump reignited the animus over players' anthem protests at a campaign rally for Republican Sen. Luther Strange on Friday.
Not just a knee: Photos from Sunday's anthem protests
At the rally, Trump angered many in the NFL by calling for team owners to fire any "son of a bitch" who "disrespects our flag." In response, an unprecedented number of players -- often backed by their teams' owners -- took action on Sunday
He followed up his comments on Twitter Sunday -- after the protests had taken place -- saying: "If a player wants the privilege of making millions of dollars in the NFL, or other leagues, he or she should not be allowed to disrespect our Great American Flag (or Country) and should stand for the National Anthem. If not, YOU'RE FIRED. Find something else to do!"
How did the protests play out?
On Sunday, players from several teams -- including the New England Patriots, Jacksonville Jaguars, Cleveland Browns, the Denver Broncos and the Miami Dolphins -- took knees during the anthem.
In a Sunday morning game being played in London between the Jaguars and the Baltimore Ravens, a number of players stood for the British anthem but sank to their knees for the American song. Jaguars owner Shad Khan locked arms with players during the anthem, and at least a dozen of his players took a knee.
With the exception of one player, the Pittsburgh Steelers didn't even take the field until the anthem was over. The Seattle Seahawks and Tennessee Titans also chose not to take the field for the national anthem.
At the Detroit-Atlanta clash, Detroit-based singer Rico Lavelle closed out his rendition of the anthem by taking a knee and holding his microphone aloft in his fist.
The protest has also spread to other sports. Ahead of Game 1 of the Women's NBA finals, the Minnesota Lynx stood with arms linked while the anthem played. Their opponents, the LA Sparks, were not on the court for the rendition.
Meanwhile, Oakland A's catcher Bruce Maxwell became the first Major League Baseball player to kneel during the national anthem, taking a knee alongside his standing teammates while holding his hand across his heart, according to an image tweeted by San Francisco Chronicle reporter.
Players on nonprofessional sports teams also showed their solidarity with the movement.