These Are the NFL Players Protesting Today Amid Trump Criticism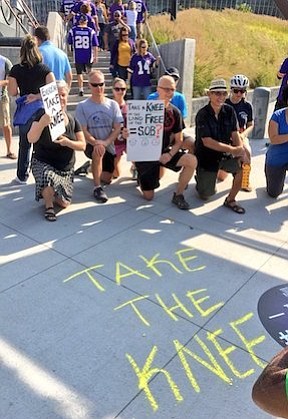 By Eliott C. McLaughlin, CNN
(CNN) -- Rather than taking a knee, most NFL players opted for a show of unity Sunday, locking arms ahead of their games amid criticism from President Trump who slammed players opting to protest during the national anthem.
Still, plenty opted to kneel during "The Star-Spangled Banner," with the Baltimore Ravens' Terrell Suggs and Tampa Bay Buccaneers' Mike Evans among the stars following the lead of former pro quarterback Colin Kaepernick, who pioneered the anthem protests last year over what he was said was social and racial injustice.
Kaepernick, who has sat and knelt during the anthem, has said he refused to honor a song or "show pride in a flag for a country that oppresses black people and people of color." He also referenced the shootings of black men by police as one of reasons for his stance. "To me, this is bigger than football and it would be selfish on my part to look the other way," he told NFL Media. "There are bodies in the street and people getting paid leave and getting away with murder."
Ahead of a Sunday morning game in London and afternoon games, players from several teams, including the New England Patriots, Jacksonville Jaguars, Cleveland Browns, the Denver Broncos and the Miami Dolphins, took knees during the anthem. With the exception of one player, the Pittsburgh Steelers didn't even take the field until the anthem was over. The Seattle Seahawks and Tennessee Titans also chose not to take the field for the national anthem.
In Sunday morning tweets, Trump renewed his criticism of the protests, slamming the league's ratings and saying players should be fired or suspended for such protests. On Saturday, he called for NFL owners to fire any "son of a bitch" who "disrespects our flag."
"What you just saw was a variety of responses with the theme of unity," an NFL front office source told CNN. "All across the league, owners, coaches and players came together to decide what was best for them."
The source added, "If Trump thought he could divide the NFL, he was wrong."
Following Sunday's 1 p.m. kickoffs, Trump tweeted that he approved of players locking arms, saying it represented "great solidarity" for the country.
Here's who's been taking a stand Sunday:
Washington Redskins vs. Oakland Raiders
Redskins players, including quarterback Kirk Cousins and defensive back Josh Norman, and owner Dan Snyder stood arm-in-arm. Several Redskins also knelt.
Across FedEx Field, a number of Raiders sat with their arms locked before the prime time game.
"Football has always served as the great unifier, bringing people together to celebrate the values of courage, commitment and achievement," the Redskins said.
NBC's Michele Tafoya said the Raiders head coach, Jack Del Rio, told her the team wanted to stay in the locker room during the anthem but couldn't. The team would have forfeited the coin toss and be in danger of a 15 yard unsportsmanlike conduct penalty, she said.