5 Things for September 29: Private Jets, Puerto Rico, ISIS, Social Media, Spain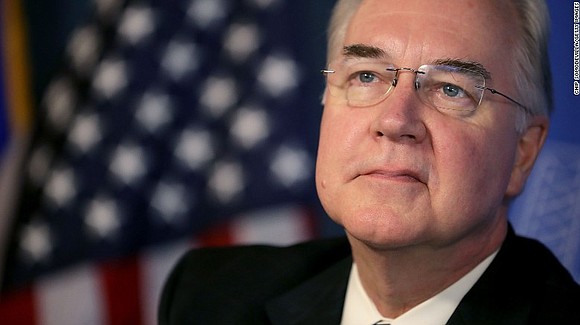 By Doug Criss, CNN
(CNN) -- The Packers and the Bears stood and locked arms during the National Anthem before last night's game. Here's what else you need to know to Get Up to Speed and Out the Door.
1. Private jet controversy
Health and Human Services Secretary Tom Price says he will pay back some of the cost of his private air travel, but that probably won't be enough to quell this newest headache for the Trump White House. Price -- who has used private charters for domestic travel and government aircraft for two international trips -- will write a check for $51,887.31. That's nice, but it only covers a fraction of the flights' cost, estimated to be in the six figures. President Trump, Democrats and budget hawks in Congress aren't happy, especially considering Price's reputation as a fiscal conservative. Trump's EPA and Treasury chiefs also have come under scrutiny over travel. The White House is moving to stop the use of private air travel by administration officials pending a review.
2. Puerto Rico
More misery may be headed for Puerto Rico. The island is under a flash flood watch as heavy rain is expected this weekend. That would no doubt exacerbate the recovery effort more than a week after Hurricane Maria hit. FEMA acknowledged that the response is slower than it would want, though one Trump official called the storm response a "good news story."
The feds say aid is being delivered -- and President Trump loosened shipping restrictions for 10 days -- but millions are still without power, water or gas. Thousands of containers filled with food, water and medical supplies appeared to be stuck at the Port of San Juan. One problem seemed to be that only 20% of truck drivers are back on the job, with many roads still impassable. The Pentagon has appointed a three-star general to lead the recovery efforts.
3. ISIS
Abu Bakr al-Baghdadi, the leader of ISIS, seems to have broken his almost yearlong silence in a new audio message. But wait, didn't the Russians say they killed him in a May airstrike? US officials never really believed that, and this new audio, which they're working to verify, will probably bear that out. The message seems to have been recorded recently -- it mentions North Korea's nuke threats against the US and Japan. Baghdadi also mocks the US and urges his followers to launch more attacks.
4. Social media & politics
A social media campaign calling itself "Blacktivist" and linked to the Russian government used both Facebook and Twitter in an apparent attempt to amplify racial tensions during the US presidential election, two sources with knowledge of the matter told CNN. The Twitter account has been handed over to Congress; the Facebook account is expected to be handed over within days.
Meanwhile, Twitter has informed Congress that it found and took action on roughly 200 accounts on its service after determining they were linked to Russia and sought to interfere in American politics.