Donations for Puerto Rico Pour In From Orlando's Hispanic Community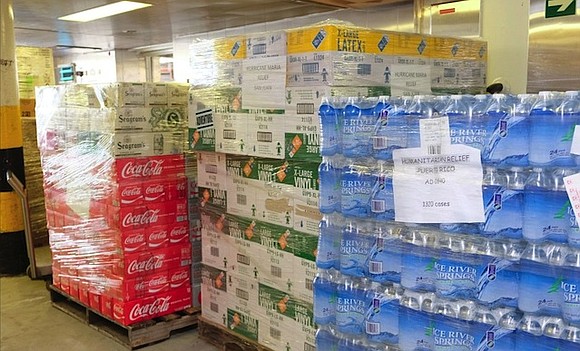 By John Couwels, CNN
(CNN) -- On the eastern side of Orlando, in a heavily Puerto Rican community, donations are pouring in from people worried about family on the Caribbean island ravaged by Hurricane Maria.
A donation and coordination center has been set up to send much-needed food, water and supplies to Puerto Rico. A coalition of local Hispanic groups, CASA (Coordination, Support, Solidarity and Aid) has set up shop at a banquet and meeting hall.
Across Orlando, donations can be made at Harbor Community Banks, local businesses and the banquet hall -- Acacia's El Centro Borinqueno.
Water, non-perishable food, cleaning supplies, toiletries, baby wipes and diapers are filling the parking lot and the hall. Volunteers are sorting, packing and loading shipping containers.
One shipping container already has been shipped and several more are planned to go next week.
Organizers are getting the message out through social media, local TV and radio stations. Several people sit around a table and work the phones, e-mails and social media to coordinate donations coming in from across Florida and other states.
'We are a very resilient community'
Volunteer Henry Cordero -- who owns a video production company, receives a phone call from a business in Clearwater -- just outside of Tampa, offering to donate seven pallets filled with batteries, car batteries and car inverters. Others in the room cheer.
Other companies have donated 12 long-distance radios and 700 batteries -- cellphone communication is almost nonexistent on the island. The coalition hopes the radios will help first responders or smaller communities talk to each other.
Cordero says others have been donating money, which is sorely needed since the cost of shipping the supplies is not cheap.
"We are a very resilient community, we're going to rise and we are going to rise stronger," said volunteer Angel Torres, a chaplain with the Orlando Police Department.
Throughout the day, people drop off donations in the banquet hall parking lot.
Even survivors from Hurricane Irma, which affected central Florida two weeks ago, donated unused supplies.
Luz Merced dropped off bottles of water and newly purchased supplies. She hopes it won't take too long to deliver the items to the island. Her family in Puerto Rico is in need of the supplies like most devastated by Hurricane Maria.
Millie Soto donated, saying, "I want to help my people, I want to help my island."
Soto says her family is doing well, so far -- despite their damaged homes.
Volunteer has yet to hear from parents
A successful businessman who did not want to be identified donated $20,000 worth of supplies, said Jose Colom, who has volunteered for days working outside in the parking lot accepting donations.
The man told Colom "he cannot sit at home and be with his family -- he is so blessed and see all the suffering of all the people in TV."
Colom, who owns parking lots in downtown Orlando, has not heard from his mother or father, Leonor and Jose Fernando, who live in Rio Piedras, Puerto Rico.