Villanova cruises, Michigan rallies to advance to national championship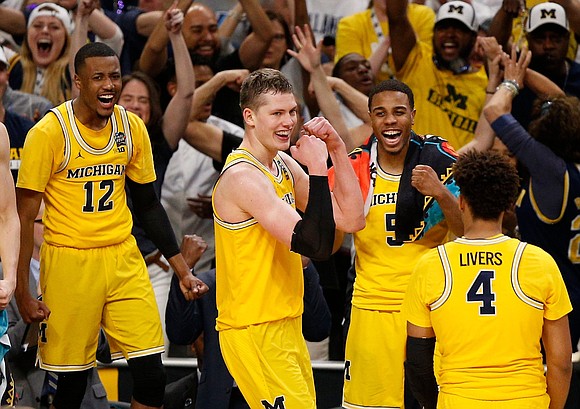 By Jill Martin, CNN
(CNN) -- Records were set. There was a comeback and a blowout. And there will be no Hollywood ending for Loyola-Chicago.
No. 3 Michigan has advanced to the national championship game with a 69-57 win over the 11th-seeded Ramblers, ending their magical run at the NCAA men's Final Four in San Antonio on Saturday.
Michigan (33-7) will face No. 1 seed Villanova, who smoked No. 1 Kansas 95-79, in Monday's national championship.
Villanova, who won it all in 2016 on a buzzer-beating three, aims for its second title in three years, while Michigan seeks its first championship since 1989.
Villanova's three-point barage
While Loyola and Michigan weren't picked by most to get to the Final Four, it was more widely anticipated that No. 1 seeds Villanova and Kansas would.
What wasn't expected was how lopsided of a national semifinal game this would be, with the Wildcats racing to a 22-4 lead within the first seven minutes.
The crux of Villanova's attack was a historic three-point barage. Of the 65 shots the Wildcats attempted, 40 of them were from deep.
Heading into Saturday night, the men's Final Four record for most three-pointers in a game was 13 (UNLV in 1987, the first year of the three-point shot, and Duke in 2010). Villanova tied that record in the first half and finished with 18.
Villanova (35-4) also set an NCAA record for most threes in a season.
"That was just one of those nights, man," Villanova head coach Jay Wright said. "We made every shot to start the game, and when you do that, you get up 22-4... it's tough to come back on. ... I feel bad for Kansas. They're a great team. We just made every shot. That happens sometimes."
All five Wildcats' starters scored in double digits, with junior Eric Paschall leading the way with 24 points, connecting on four of five from three-point range.
Kansas (31-8) was in its 15th Final Four and last won the national championship in 2008, the last time the Final Four was in San Antonio.
Wagner joins Bird, Olajuwon
Moritz Wagner, a junior from Berlin, led the Wolverines with 24 points and 15 rebounds. He is the third player in the last 40 seasons to score at least 20 points and have 15 or more rebounds in a national semifinal game since Larry Bird in 1979 and Akeem Olajuwon (now known as Hakeem Olajuwon) in 1983.
"I honestly just tried to do my job," Wagner said, who helped Michigan overcome a 10-point deficit. "The shots were falling the second half. It's a lot more fun when the ball goes to the net."
Junior Charles Matthews, who is from Chicago, added 17 points for Michigan. Freshman Cameron Krutwig led Loyola with 17 points, while redshirt junior Clayton Custer had 15.
Michigan, in the national championship game for the first time since 2013, likely won't be favored heading into Monday night, but the Wolverines do have momentum. Michigan, who snapped Loyola's 14-game winning streak, has now won 14 straight. That's currently the longest active streak in Division I.