10 best hidden Cold War sites in former West Germany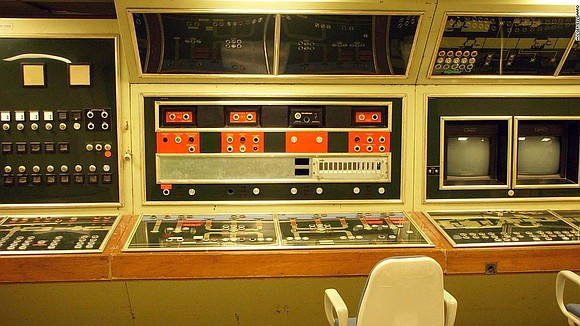 Marcel Krueger, for CNN
(CNN) -- Berlin and its infamous wall are the epicenter for Cold War tourism, but there are plenty of other sites around Germany that portray the tension between east and west after World War II.
Many important installations can still be found dotted throughout the country, relics of a time when West Germany was a Cold War hot spot.
There are hidden bunkers, former rocket silos turned into art galleries, and secret airfields next to highways.
Here's a list of 10 best Cold War sites west of the former German Democratic Republic (GDR) border.
Bunker Marienthal
The Government Bunker is a massive underground complex once intended to house the West German government in case of Soviet invasion or even atomic war.
Located about 16 miles south of the former capital of Bonn, among the beautiful vineyards of the Ahr Valley, it was built between 1960 and 1972 inside two railway tunnels.
It was decommissioned in 1997 but has since reopened as the Government Bunker Documentation Site, where visitors can visit the decommissioned control room and even a replica of the frugal bedroom of the German chancellor.
Bunker Marienthal; +49 2441 775171
Raketenstation Hombroich
If art in a former NATO missile base is your thing you might want to visit Hombroich near Neuss.
Built in 1967 as part of a new chain of air defenses, the base was operated first by US and then Belgian forces, and subsequently the German Federal Police's anti-terrorism unit, which briefly used the site for training after 1990.
In 1994 art collector and patron Heinrich Müller bought the base and turned a place of missiles into a place of culture. The halls, hangars, and even the observation tower were refurbished with the help of artists and architects like Erwin Heerich, Tadao Ando, and Alvaro Siza.
Today, visual artists, writers, and composers from all over the world live and work in the former missile base, which is open to the public for exhibitions and events..
Museum Insel Hombroich, Minkel 2, 41472 Neuss, Germany: +49 2182 887 4000
Marienborn border crossing
The border checkpoint Helmstedt-Marienborn on the border between Lower Saxony and Saxony Anhalt was once the largest and most important border crossing on the inner German border.
This was shortest land route between West Germany and West Berlin, so most transit traffic used the crossing, which became a bottleneck.
The GDR installations needed to process all that traffic (and catch potential spies and refugees from the east) were massive.
These have now been restored as a free museum with nearby rest area and restaurant by the side of Autobahn 2.
Marienborn, Memorial German Division Marienborn, Federal Highway 2, 39365 Marienborn, Germany; +49 (0) 39406 920 90
Highway strip on Autobahn 29
Another interesting rest area is the one on Autobahn 29, just north of Cloppenburg in Lower Saxony. This unsuspecting strip of concrete next to the roaring traffic was where massive C-130 Hercules transport planes and A-10 Thunderbolt fighter planes landed and took off during NATO exercise "Highway 84" in 1984.