Cambridge Analytica: Nigeria, Kenyan opposition to probe firm's alleged role in their elections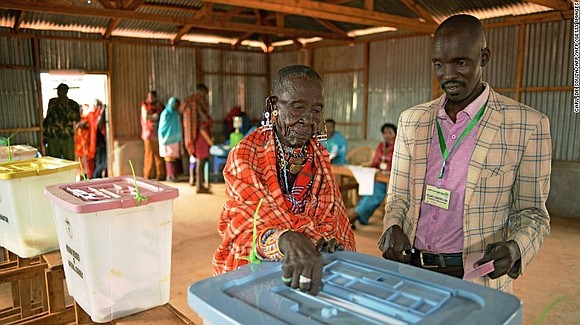 The video was made by Texas-based Harris Media, which also worked on the campaigns of Trump and far-right groups in Europe, according to the London-based charity Privacy International.
Harris Media did not immediately respond to CNN's request for comment.
In the first round of last year's elections, courts nullified Kenyatta's victory over Odinga over "irregularities and illegalities." Kenyatta went on to win re-election.
New information about Cambridge Analytica, however, "puts the results into question, the whole election infrastructure," Sen. James Orengo told CNN. "The elections which were held last year must be fully audited. I think we'll see the footprints of Cambridge Analytica, and I think that is why they're advertising Kenya as a success story."
'A dark manipulative arch'
But a spokesman for Kenya's ruling Jubilee Party downplayed the British data firm's involvement in the election campaign. Raphael Tuju, the party's secretary-general, told CNN it hired SCL "to do analysis of focus group discussions. They did demonstrate to us that they had that kind of expertise. That was it."
Tuju, speaking at the party's headquarters in Nairobi, said the party will not press Cambridge Analytica on the Channel 4 report.
"We really don't have time for that," he told CNN.
On its website, Cambridge Analytica describes its work in the 2013 Kenya election campaign as "based on the electorate's real needs (jobs) and fears (tribal violence)."
Elections in Kenya are tense, and in 2007, more than 1,100 people were killed and more than 660,000 were forcibly displaced during Kenya's worst electoral violence.
One commentator said companies like Cambridge Analytica play with lives when they "cling to destructive narratives."
"A negative narrative can flip to violence quickly if it follows a dark manipulative arch," said John Githongo, a former permanent secretary for governance and ethics in Kenya and a founder of the social movement Inuka Kenya Trust.