State of emergency declared over Indonesia oil spill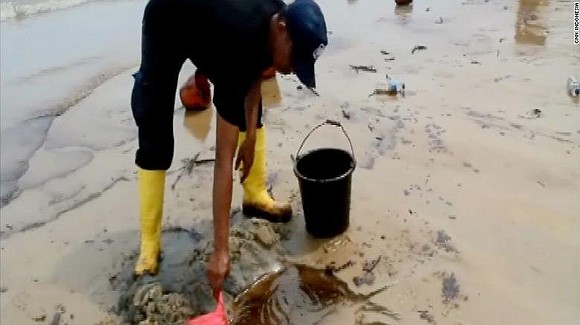 By Euan McKirdy, CNN
(CNN) -- Indonesian authorities have declared a state of emergency over an oil spill off the Southeast Asian country's coast as it continues to spread, causing environmental and economic damage.
Campaigners accused the government of doing too little, as dramatic footage showed the area off Balikpapan in the province of East Kalimantan wreathed in thick black smoke after the oil caught fire over the weekend.
The incident has already caused the deaths of four fishermen -- one person remains missing -- and authorities have warned residents against naked flames and smoking near the affected area, according to local media.
Environmental group Greenpeace said it hasn't received any official communication, despite authorities deeming the situation an emergency.
"The government is so late to mitigate the impact of this incident," spokesman Arifsyah Nasution told CNN.
"It's already the fifth day ... the handling of the oil spill is slow, which could be (due to a lack of) equipment resources."
Nasution said despite ongoing investigations, it was still unclear who the responsible party was, while cleanup efforts were lagging.
The Indonesian government did not respond to a request for comment.
Nasution said the extent of the spill is "quite massive" and has impacted the local shoreline and marine life, adding marine mammals and seabirds will more than likely be immediately affected, while fish could ingest the oil and cause health problems further down the line.
Greenpeace does not yet know if the fires were accidental or started by design in order to burn off excess fuel in the water, but Nasution said they are "worsening the situation."
Source unknown
During a press briefing Monday, municipal secretary Sayid MN Fadli cautioned locals, suggesting the area had become hazardous.
"The bay is now like a gas station," he said, after warning people not to smoke near the oil spill.
The source of the spill is as yet undetermined -- Indonesian media reports quoted state oil producer Pertamina denying wrongdoing, saying that tests of the waters from the bay have determined that the substance is marine fuel oil, not the crude which is carried in their pipelines in the area.
Pertamina did not respond to a request for comment.
Locals have been reported having difficulty breathing and experiencing nausea and vomiting since the fires broke out over the weekend.
The region has experienced severe spills in the past, and Greenpeace's Nasution says that the government should focus on a future strategy how of to mitigate the impact of such incidents.
"Long-term recovery measures are crucial (and should be) be drawn up soon," he said.