France and UK prepare Syria response as Assad warns West to stay out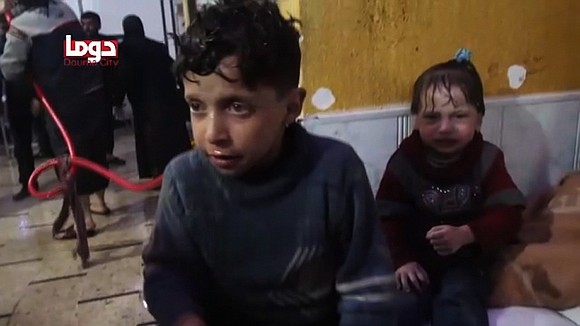 By Kevin Liptak, James Griffiths and Angela Dewan, CNN
(CNN) -- President Bashar al-Assad has warned the West against attacking Syria, as President Donald Trump's international allies made preparations to join the US in any military action against the regime.
British Prime Minister Theresa May called an emergency Cabinet meeting for Thursday, in which she is expected to outline her argument in favor of military action against Syria. French president Emmanuel Macron said earlier that any French strikes would target chemical facilities, in the wake of an alleged gas attack on the Syrian city of Douma at the weekend.
Assad said that the threats by Western countries against Syria were "on the basis of lies they have fabricated," denying any responsibility for the suspected chemical attack.
"Any possible action will only cause more instability in the region and threaten international security and peace," Syrian state TV quoted Assad as saying, at a meeting with a high-level Iranian delegation in Damascus on Thursday.
On Wednesday, Trump appeared to suggest air strikes were imminent, warning Russia to "get ready" for military action. But after being criticized for apparently telegraphing US intentions, Trump on Thursday attempted to blur the timing of potential airstrikes on Syria.
"Never said when an attack on Syria would take place. Could be very soon or not so soon at all!," the President tweeted, without ruling out attacks.
The suspected use of chemical weapons has drawn the West back into Syria's seven-year conflict. There are concerns, however, that further international intervention risks a confrontation between Russia and the US. Russia is Assad's most powerful supporter and has provided him with strong military backing.
What might France and the UK do?
Macron claimed to have proof that the Syrian regime has used chlorine as a weapon, and told TF1 that he was in close discussions with Trump. "Yes, every day since the beginning of the week, our teams are working closely together and we will have decisions to make when the times comes, when we will judge it to be useful and effective," he said.
Macron said earlier in the week that France was ready to attack the "chemical capabilities" of the Assad regime.
In London, it was unclear whether Prime Minister May would seek parliamentary support for any UK involvement. May is not required by law to consult the House of Commons, but by convention, MPs expect to be consulted.
In 2013, then Prime Minister David Cameron lost a vote on air strikes on Syria 13 votes, thwarting an effort by former President Barack Obama to attack the Assad regime.
On Wednesday, opposition Labour party leader Jeremy Corbyn urged May to recall Parliament -- which is currently on recess for Easter -- to hold a vote before taking any action.
Any potential strike against Syria could be carried out by extensive US and UK military assets already in the region, including two US Navy destroyers armed with Tomahawk cruise missiles. British media reported Wednesday that May has also ordered British submarines to move within missile range of Syria.