Pearland and Beaumont Students Advance to Scripps National Spelling Bee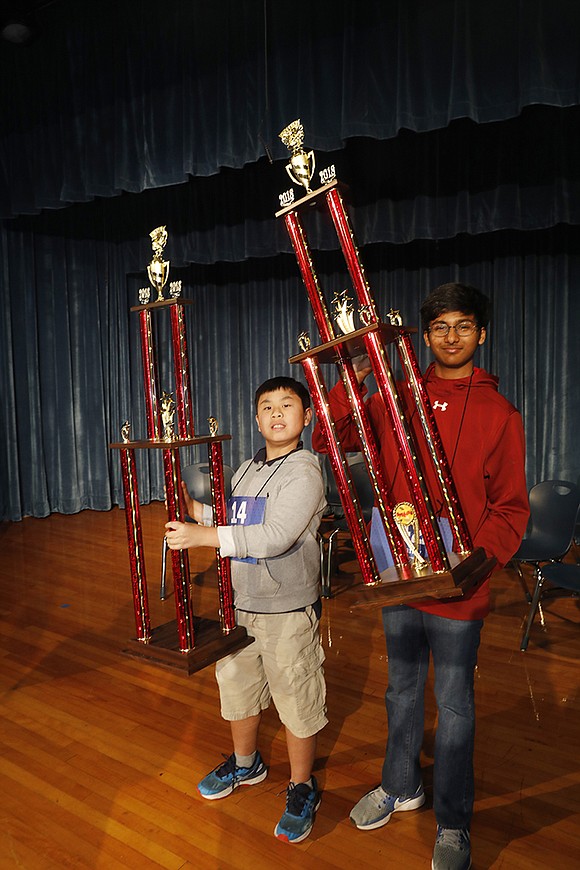 HOUSTON – (April 12, 2018) – After competing in eight rounds with 51 spellers, Pranav Chemudupaty, a Pearland 8th-grader who attends Nolan Ryan Jr. High in Alvin Independent School District, emerged as champion of the 2018 Houston Public Media Spelling Bee. Benjamin Chen, a Sallie Curtis Elementary 5th-grader in the Beaumont Independent School District, placed second. They will participate in the Scripps National Spelling Bee May 27 – June 1.
"The Houston Public Media Spelling Bee prepared me for Scripps because it's one of the most competitive regionals out there," said Chemudupaty, whose winning word was "oxyacetylene," a mixture of oxygen and acetylene used for cutting and welding metals. "It prepared me for the real deal."
Chemudupaty is no stranger to the bee. In 2015, he tied for fifth place, and his brother Aditya was the 2009 and 2010 Houston Public Media Spelling Bee champion.
Chemudupaty and Chen will join students from across the country in the Washington, D.C., area, vying for the national championship and prizes worth more than $40,000.
"When I started spelling, I thought I could be a national champion," Chen said. "It takes a lot of time and effort, and this feels like one of the greatest moments of my life."
You can see highlights of the competition at 3:30 p.m., on Saturday, April 14, on TV 8 and online on the Houston Public Media Spelling Bee 2018 web page.
Houston Public Media has hosted the regional spelling bee for the past decade as part of its commitment to education. This year, the competition took place at Baylor College of Medicine Academy at James D. Ryan Middle School in Houston's Third Ward.
"There is no better place to host the nation's largest regional spelling bee than at a middle school in our neighboring community," said Lisa Trapani Shumate, associate vice president and general manager of Houston Public Media. "We are committed to education and know that changing our community means getting involved in meaningful ways. The journey to Scripps National Bee is always the most rewarding, starting at home or in the classroom with teachers, families and bee coordinators."