5 things for April 13: Comey book, Syria, Russia probe, teacher protests, Cosby trial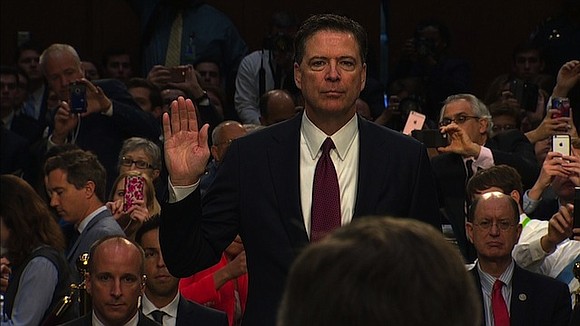 By Doug Criss, CNN
(CNN) -- It's Friday -- the 13th! But come on out from under the covers. It'll be OK. Now, here's what you need to know to Get Up to Speed and Out the Door.
1. James Comey book
Ever daydream about how you'd get back at a boss who fired you? Well, James Comey just wrote the playbook. In his new memoir, "A Higher Loyalty," the ex-FBI director calls President Trump "unethical, and untethered to truth," and says Trump gave him "flashbacks to my earlier career as a prosecutor against the mob." The big question now is how Trump will respond. With Comey about to start a book tour, the Republican National Committee launched a website -- called, we kid you not, "Lyin' Comey" -- that hopes to refute some of the book's claims. CNN's Stephen Collinson calls Comey's book, which goes on sale Tuesday, "the most devastating, contemporaneous takedown of a sitting president in modern history." Chris Cillizza says it's a declaration of war.
2. Syria
A coalition of Western nations is slowly forming to respond to last week's suspected chemical attack in Syria that killed dozens. UK Prime Minister Theresa May said her government is ready to join the US in any military strike on Syria. The French say they're on board, too. Earlier this week, President Trump appeared to suggest airstrikes were imminent, then walked that back a bit. Syrian President Bashar al-Assad warns the West to stay out of the fray.
3. Russia investigation
Trump's personal attorney often recorded phone conversations, both before and during the 2016 presidential campaign, that likely have been scooped up in the FBI raid on attorney Michael Cohen's apartment, office and hotel room, according to sources familiar with the matter. The recorded conversations, according to one source, were even played back at times to candidate Trump and associates, the source said. Among the recordings were discussions about the campaign and interactions with the media, the source said.
Meanwhile, the White House is preparing talking points designed to undermine Deputy Attorney General Rod Rosenstein's credibility, according to sources familiar with the plan. It calls on Trump's allies to cast Rosenstein as too conflicted to fairly oversee the Russia investigation.
And 54% of Republican voters believe special counsel Robert Mueller's Russia probe is not a fair investigation -- up 10 percentage points over the last six months
4. Teacher protests
The Oklahoma teacher walkouts are over. The state's largest teachers union shut them down after nine days amid the sense that lawmakers weren't going to budge and give teachers more money. The union gets $479 million in funding for next school year, less than what teachers wanted. But union president Alicia Priest said the fight's not over: "We have created a movement, and there's no stopping us now." Some students in the state will head back to class today.
Meanwhile, in Arizona, Gov. Doug Ducey proposes giving teachers there a 20% pay raise by 2020. But educators, who held rallies and "walk-ins" this week, are skeptical and may still walk out. Teachers in Kentucky will rally today at the state Capitol to push for more funding for schools in their state.