Community: AVDA Acts to End Abuse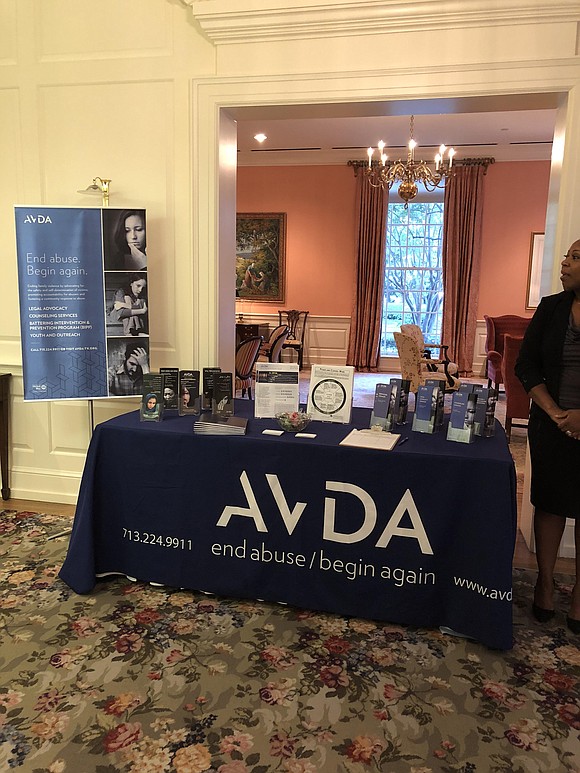 Did you know 1 out 4 women have experienced domestic violence?
The fearless AVDA campaign "END ABUSE BEGAN AGAIN" is a strategic force against domestic violence and it has been a successful one. This past week, many well-heeled society women and a few well-suited men filled up the Junior League's Tearoom to discuss making a significant difference and furthering this much-needed cause.
The Breakfast Awareness Benefit chaired by Carter Dugan and Rachel Roosth featured KPRC-TV Meteorologist Khambrel Marshall as Master of Ceremonies and Mark Wynn, a nationally acclaimed domestic violence expert and retired Lieutenant of the Nashville Police department as the keynote speaker. A former victim of the AVDA program was also present to discuss her story about how AVDA and it's free services saved her and her children's lives. The goal of last week's Breakfast Benefit was to raise money for the continued growth of AVDA's programs and to foster a community response to the abuse and bring community awareness.
AVDA in case your wondering stands for Aid to Victims of Domestic Abuse, it is a non-profit organization that has served Harris County for over 37 years. Its mission is to end family violence by advocating for the safety and self-determination of victims. AVDA confronts domestic abuse and family violence in many ways by creating programs for victims that intervene, reach out, educate, and provides free legal representation to those in need.
AVDA's legal advocacy program is the cornerstone of their safety –based services for all victims of domestic violence. It is within this program where many women are in most need of services, here they offer free help in divorce, protective orders, child custody and child support for women they may lack the financial means needed. Women typically stay in abusive situations, because they lack the financial means of getting out.
It's an issue politicians love to sweep under the rug by domestics violence against women and children still persists today and the numbers are steadily increasing. While other issues are trending right now such as Second Amendment rights and Opioid usage, we can't turn a blind eye to domestic violence because it's still a concerning issue. Domestic violence affects numerous women regardless of social or economic class and it prevails in the household.
AVDA understands this is why the founder and has created many programs here not only just to assist the abused woman and their families, but also offer programs that teach and instruct as well. AVDA's series of immersive programs is countering the issue of violence at every single angle and I have to commend them for that.
Did you know? ADVA statistics for the Greater Houston area:
Violence in the Greater Houston Area
· Harris County led the state in women killed by their intimate partner with 34 women (22%) in 2015. *Source: Texas Council on Family Violence
· In 2015, Harris County had the highest percentage of calls to the Domestic Violence Hotline.
· The 2014-2015 Harris County Community Plan reported more than 250,000 women in domestic violence situations.
· In 2014, the Houston Police Department alone tallied 23,512 reported incidents of domestic violence.
· 1 in 4 women experiences domestic abuse in their lifetime.
· 25% of physical assaults perpetrated against women are reported to the police annually.
How to recognize if you are in a domestic abusive situation:
Abuse comes in many forms: physical, verbal, emotional, sexual, psychological, financial, and spiritual.
There are many signs of an abusive relationship, including when an intimate partner:
· Hurts or threatens to hurt you;
· Criticizes or humiliates you;
· Creates fear and intimidation;
· Acts jealous or controlling;
· Threatens to hurt or take the children away; and
· Tries to limit time with family or friends.
If you are a victim of domestic violence or know someone who is Call or get help here: Call AVDA and Get Help Now 713-224-9911 or 24 Hour National DV Hotline 1-800-799-SAFE (7233)
To learn more about AVDA's Battering Intervention, Victim Advocacy and Counseling services including their Youth Outreach and Legal advocacy programs and how you can volunteer, donate and make a difference visit their website here: