Ieshia Champs, Single Mother of 5, to Graduate Magna Cum Laude From Texas Southern University's Thurgood Marshall School of Law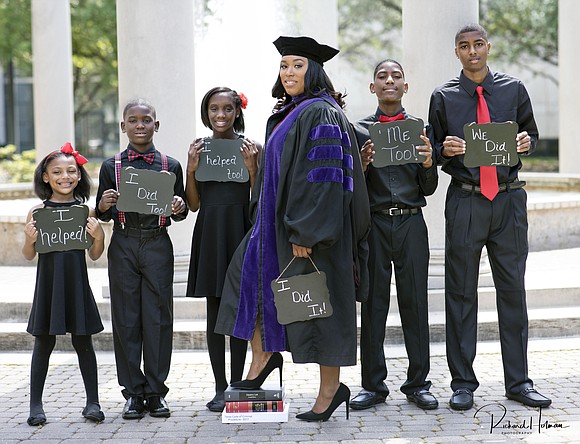 "She told me that God would take care of me," Champs says of Louise's encouragement. "During that same year — it was 2009 — I ended up having a house fire, I lost everything that I had. I got laid off from my job, the father to two of my children died of cancer while I was seven months pregnant, I literally tried to kill myself, and I ended up going back to get my GED."
Champs credits the inspiration and prayers from the Holmans for her getting an associate's degree in paralegal studies at Houston Community College, and a bachelor's degree at the University of Houston. Both degrees eventually brought her to the Thurgood Marshall School of Law at Texas Southern University, where she'll be graduating in May. Although receiving her Juris Doctor degree was far from easy, she commends her five children for making it possible.
Giving her time to do both her work and rest, Champs says that her eldest son, who is now 14, has been amazing at taking the other four children — ranging in age from 5 to 12 — to a quiet place in the house to do activities or eat a snack. In order to honor this commitment, she decided to include them all in her graduation photos, which were taken by Bishop Richard.
"I've been attending Ministers for Christ for about 10 years, and [Richard] is not just my bishop," Champs says. "He's a professional photographer, and he knows my story. So I wanted him to be very active in that."
Now, as the bishop's photos circulate around the internet, Champs's older children are beginning to understand what "going viral" means. However, Champs remains focused on what she wants to do with her doctorate once she passes the bar exam, which is to become a general attorney with a specialization in family law and juvenile law, and eventually become a judge.
"I feel like with what I've been through as a child and in my upbringing, I can probably help some of these juveniles who may feel like there's no hope for them," Champs explains. "I want to be the one to fight for those children who are in these horrible living arrangements. To try to help them reconcile with the family, or if not, give them the same opportunity that I had."
Source: https://www.yahoo.com/lifestyle/single-mother-5-proudly-poses-children-law-school-graduation-photos-012231390.html