South African Woman Winemaker Of The Year, Ntsiki Biyela Brings The Winemaker Series To Houston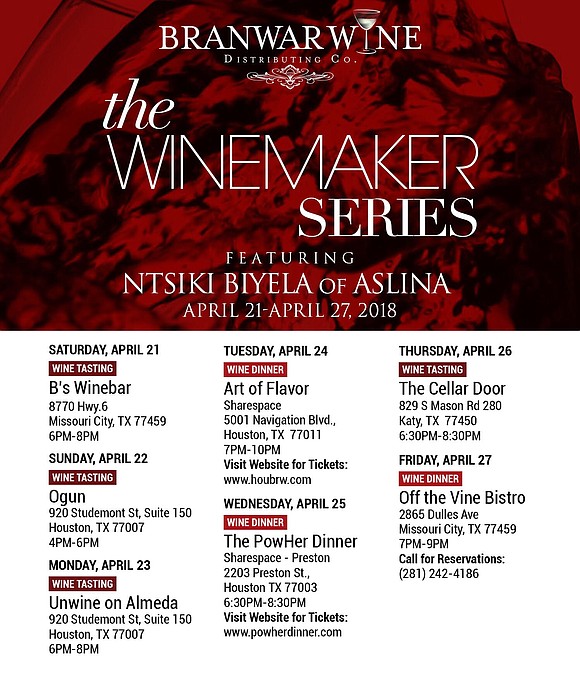 (Houston, TX) -- The South African Woman Winemaker of the Year, Ntsiki Biyela, owner of Aslina Wines, is coming to Houston with The Winemaker Series, April 21-27, 2018, brought to you by Branwar Wines. This week of special events will be geared towards Houston Black Restaurant Week, a women empowerment dinner and plenty of winetasting.
Ntsiki Biyela has been featured in Forbes, Business Insider and the New York Times. Biyela uses her wealth of knowledge and experience in the wine industry to break barriers as the first Zulu winemaker in the world.
While Biyela is hosting several events while in Houston, two specific events we would like to highlight is Art of Flavor with Chef Mark Holley, commencing as apart of Houston Black Restaurant, and the PowHer Dinner.
Art of Flavor: Exclusive Pop-up Dinner | Tuesday, April 24, 2018
An exclusive pop-up dinner in a private location featuring acclaimed Chef Mark Holley; wine pairings with Ntsiki Biyela, South Africa's first black female wine maker; entertainment; and an exceptional guest list -- sponsored by Sharespace, Branwar Wines and the Gite Gallery.
As an extension to HOUBRW's commitment to the agricultural community, HOUBRW has partnered with F.A.R.M.S. (Family. Agriculture. Resource. Management. Services.), a national non-profit organization, supporting family farmers through education and retail market expansion, while relieving hunger in the farmer's community.
PowHer Dinner | Wednesday, April 25, 2018
The 2018 PowHER Dinner is an intimate dinner for up to 40 powerful female influencers from around the globe. This evening highlights prominent women from diverse backgrounds and aims to inspire collaboration across industries with specific attention to professional women in the C-STEM field.
A portion of the proceeds for this event will go to C-STEM Teacher and Student Support Services, Inc., founded by White House STEM Access Champion of Change, Dr. Reagan Flowers. C-STEM is geared towards enriching the curriculum and instruction for children in grades Pre K-12 through integrated learning experiences that emphasize hands-on, project-based learning.