Stormy Daniels releases sketch of man who allegedly threatened her over Trump affair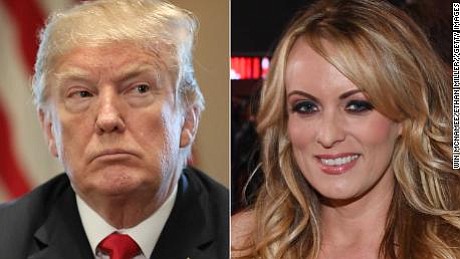 By MJ Lee and Maegan Vazquez, CNN
(CNN) -- Stormy Daniels released a composite sketch on Tuesday of the man she alleges threatened her in 2011 and is offering a $100,000 reward to anyone who can identify the perpetrator.
The disclosure of the drawing and the announcement of the monetary reward on ABC's "The View" mark yet another theatrical twist in the dramatic public feud between the porn star and President Donald Trump. Daniels alleges that she had a sexual encounter with Trump in 2006 and that she signed a secret agreement just days before the 2016 election in exchange for the promise to stay quiet about the alleged affair. She is now suing Trump in the hopes of voiding that agreement.
The development also comes at a grave moment for a key figure in the Daniels saga -- Trump's longtime personal lawyer, Michael Cohen. Cohen claims to have orchestrated the non-disclosure agreement with Daniels and says he used $130,000 of his own money to pay her off. Last week, the FBI raided Cohen's home, office and hotel room in New York City. Sources said authorities seized information related to Stephanie Clifford, Daniels' legal name, and that the search included bank records.
Daniels, recounting the alleged 2011 incident on "The View," said that what she remembers "so clearly about him was that nothing looked alarming about the way he looked at first."
At the top of the sketch, it states that the man is between 5'9" and 6' tall, between his 30s and early 40s, and with a lean but "fit" body type.
Daniels says the alleged threat took place in 2011, shortly after she had agreed in May of that year to sell her story about Trump to a magazine for $15,000. In a previous interview with Anderson Cooper on CBS' "60 Minutes," Daniels said she was in a Las Vegas parking lot preparing to head into a fitness class when a man approached her and her infant daughter.
"A guy walked up on me and said to me, 'Leave Trump alone. Forget the story,'" Daniels told "60 Minutes." "And then he leaned around and looked at my daughter and said, 'That's a beautiful little girl. It'd be a shame if something happened to her mom.' And then he was gone."
"I was rattled," she added. "I remember going into the workout class. And my hands are shaking so much, I was afraid I was going to drop her."
On "The View," Daniels said one of the main reasons she did not go to the police after the incident was that she had not disclosed her alleged affair with Trump to her husband and was "embarrassed."
Daniels' lawyer, Michael Avenatti, said on "The View" he and Daniels think they know who sent the man who allegedly confronted her, "but we want to confirm it."
Avenatti has told CNN that the person who made the threat was not Cohen or Trump's longtime bodyguard, Keith Schiller.